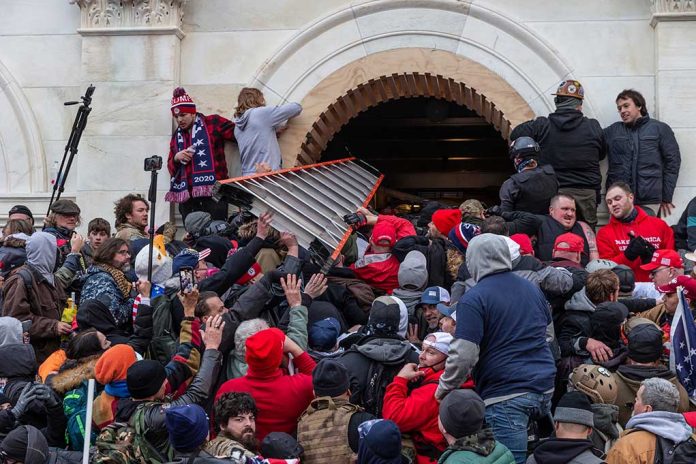 Rhodes Convicted in January 6th Conspiracy
(IntegrityPress.org) – The January 6, 2021, riot at the Capitol Building saw hordes of angry protestors gather around the building, with many entering by force. Prosecutors charged far-right groups such as the Proud Boys and the Oath Keepers for their affiliation with the attacks. On Tuesday, November 29, a jury convicted Stewart Rhodes, founder of the Oath Keepers, of seditious conspiracy and other offenses related to his actions on and before that day.
Rhodes was on trial in federal court alongside four other defendants; Kenneth Harrelson, Kelly Meggs, Thomas Caldwell, and Jessica Watkins. Prosecutors charged all five defendants with seditious conspiracy, but the jury found only Meggs and Rhodes guilty. Still, the jury found all five guilty of obstructing an official proceeding and convicted all defendants of at least one other charge as well.
BREAKING: Stewart Rhodes, founder of the far-right Oath Keepers, is found guilty of seditious conspiracy in a major Jan. 6 trial. https://t.co/XFaFR8Hvu8

— NPR (@NPR) November 29, 2022
The five defendants will face sentencing at a later date. Rhodes is facing up to 60 years in prison for all his convictions, while Meggs could receive up to 86 years. Seditious conspiracy carries a maximum charge of 20 years. However, federal sentencing guidelines allow for much more lenient sentences.
This verdict marked the conclusion of the most significant January 6 case to come before the courts yet, analysts say.
Do you think this was a fair outcome for Steward Rhodes and his associates?
Copyright 2022, IntegrityPress.org