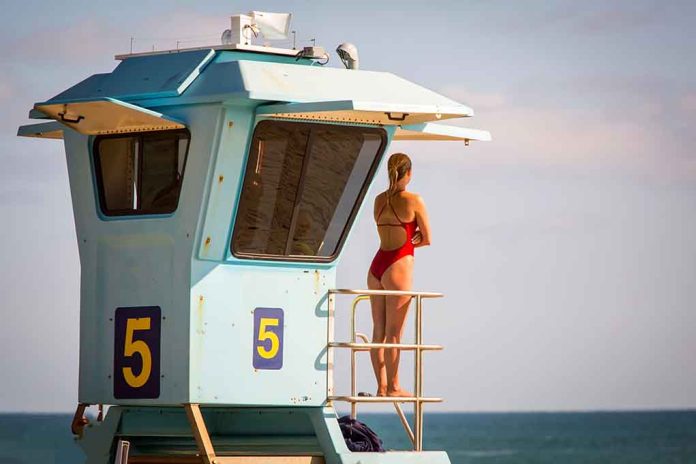 (IntegrityPress.org) – Champion swimmer Riley Gaines, who lost out to transgender athlete William Thomas, has lashed out at Adidas for using a male to advertise its female swimming gear. On her Twitter account, Gaines expressed exasperation as to why the sports giant didn't produce swimming kits aimed at both men and women. "But they didn't, because it's about erasing women," she said.
Gaines gained national attention when she spoke out about losing a contest to William Thomas, who goes by the name of Lia. Thomas competed in male sports until 2019 but then said he had "transitioned" into a female and began competing in women's events. He won the NCAA national title in 2022, prompting anger from female athletes.
The latest move by Adidas sparked outrage on the Internet, with celebrities and Members of Congress joining the condemnation. South Carolina Rep. Nancy Mace took to her Twitter account and said, "I'm old enough to remember when women actually modeled women's bathing suits, not men." Georgia Rep. Marjorie Taylor Greene asked why the sports company was willing to alienate half the human population to cater to less than 1%.
Women's groups have started a campaign to boycott Adidas products, similar to the boycott organized by British Olympic swimmer Sharron Davies when Nike contracted with trans influencer Dylan Mulvaney to promote women's sportswear. Davies described Nike's decision as a "kick in the teeth" to female athletes.
Dylan Mulvaney's presence in the ad campaign by Bud Light prompted a comparable outcry. As a result, the company's sales dropped by almost 25%, losing millions of dollars in value. The executives who decided to enlist Mulvaney have since been placed "on leave."
Senator Ted Cruz and Senator Marsha Blackburn recently wrote a letter to Bud Light demanding details on the arrangement with Mulvaney and accusing the company of promoting alcohol to minors. Mulvaney is a social media influencer who has posed with Barbie dolls and even introduced himself as a six-year-old girl.
Copyright 2023, IntegrityPress.org