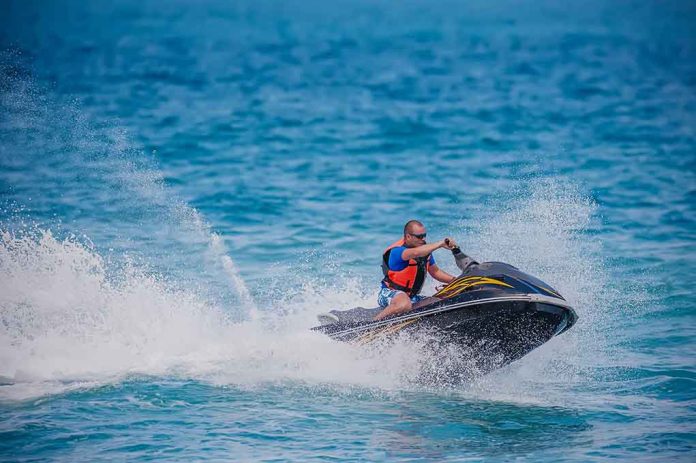 (IntegrityPress.org) – In a tragic incident that occurred September 5, the Algerian coast guard opened fire on a group of Moroccan tourists who inadvertently ventured into Algerian waters on their personal watercraft resembling Jet Skis. This event resulted in two fatalities and stirred outrage in Morocco.
The victims were cousins who were vacationing in the Moroccan coastal town of Saaidia. Their names were Bilal Kissi, a 29-year-old dual citizen of France and Morocco, and Abdelali Mechouar, a 40-year-old Moroccan citizen who resided in France. The group also included Bilal's brother, Mohamed, who said the group accidentally stranded themselves in Algerian territory after their Jet Skis ran out of fuel.
The statement outlined the context, citing the heightened activity of drug trafficking gangs and organized crime within the naval border region. It indicated that the Coast Guard personnel initially attempted warning shots due to the persistent behavior of Kissi and Mechouar. Following multiple warnings and attempts, the personnel fired shots, which disabled one of the water scooters, while the other two fled.
The Algerian Ministry of National Defense issued a statement verifying the incident and disclosing the recovery of Mechouar's body.
Protests were immediately organized by Moroccan human rights activists outside of the parliament building in Rabat, demanding accountability for the tragic event and labeling Algeria as a "military regime."
The situation is made worse by the fact that Algeria's borders are closed off to its neighbors, mostly because of hostile tensions related to the control of the Western Sahara desert.
The Moroccan National Council for Human Rights denounced the incident as a violation of human rights.
The Moroccan Association for Citizenship and Human Rights took an even more assertive stance, with its president, Idris Sedrouai, describing it as an assassination and stating that it was done on purpose. Sedrouai also hinted at the possibility of initiating an international case against the Algerian military.
Copyright 2023, IntegrityPress.org