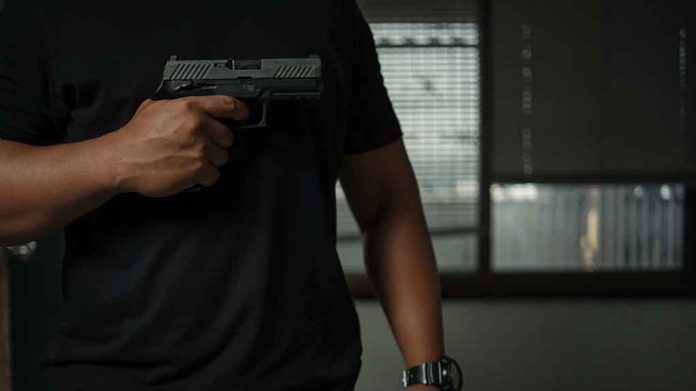 (IntegrityPress.org) – Following a harrowing incident at Turnberry Towers in Las Vegas, an employee has been hailed as a "hero" for apprehending a gunman who was armed with a rifle. According to the Las Vegas Metropolitan Police Department, the suspect, identified as Andrew Warrender, entered the lobby of the building on Friday, June 23, in the mid-afternoon. Allegedly, Warrender fired a shot from his Stag rifle at an employee before experiencing a malfunction with his weapon.
The arrest report indicates that a casing became lodged in the ejection port, rendering the rifle inoperable. In response, a security guard shot Warrender. Surveillance footage reviewed by the police department reveals Warrender approaching the front entrance and exiting through a revolving door with his weapon, where he is subsequently shot by the security officer. Reports from 3 News state that officers discovered Warrender lying on the ground in front of the main entrance of the building on Karen Avenue.
The Las Vegas Metropolitan Police Department has characterized the incident as an "isolated incident," emphasizing that there is no ongoing threat to the community. Lieutenant Noe Esparza from the Convention Center Area Command of the Las Vegas Metropolitan Police Department reassured the public, stating that this was not in any way an active shooter type of situation. He further confirmed that the community remains safe.
Warrender was transported to the hospital in critical condition, where he underwent surgery and was placed under sedation for his recovery. Police have booked him on suspicion of attempted murder and assault with a deadly weapon.
Witnesses employed at Turnberry Towers informed the police that Warrender was a frequent visitor to the complex. They described him as "socially awkward" and noted that his presence with a rifle was highly unusual. One witness recounted asking Warrender if he was alright, to which he responded negatively.
Several commentators have argued that the security guard's actions deserve greater public recognition and praise for swiftly addressing the situation.
Copyright 2023, IntegrityPress.org