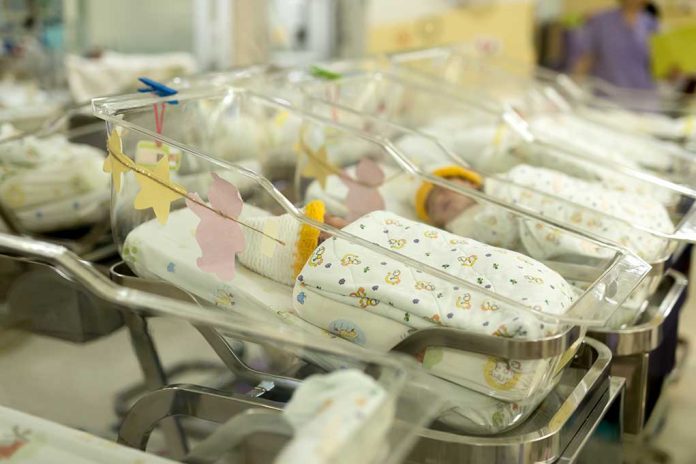 Alleged Killer Nurse on Trial for Newborn Deaths
(IntegrityPress.org) – Lucy Letby, the UK nurse accused of murdering seven babies in a busy hospital's neonatal unit, is finally in court to face the music. The alleged killer's infamous spree in 2015 and 2016 is the stuff of nightmares, with victims spreading far beyond the lives lost to the families and coworkers who endured unimaginable trauma. Her trial at the Crown Court in Manchester could last six months.
The Allegations
According to investigators, Letby was "the least common denominator" in seven infant murders and 15 other instances of attempted murder. They found that her arrival at the Countess of Chester Hospital coincided with an unusual spike in deaths. After reviewing hospital records and time logs, they discovered that Letby was on the floor and involved far more than coincidence could suggest. Searches of her home uncovered incriminating notes chastizing herself for the killings.
The method of the killings was especially cruel. Letby allegedly injected the babies with liquids or air, attending to them and calling for help afterward. A coworker gave testimony about the horrors of seeing the children turn pale and white with purple blotches and how the staff at the hospital were baffled because they had no idea the kids were in trouble. "There is usually some indication," she told jurors. The caregivers, unfortunately, had none. The nurse, who remained anonymous for legal purposes, detailed how heartbreaking it was watching the children suffer.
Unnamed Victims of a Horrendous Crime
The three victims Letby's coworker focused on were called Child A and B in court. The pair were twins born prematurely. Child A, a boy, died soon after Letby got to work that night and allegedly injected him with air. She tried to kill his sister the following night, but the infant girl survived the ordeal.
The coworker described the situation as unusual but also answered "yes" when asked if Letby was a professional and competent caregiver. She said she served as the young nurse's mentor and helped train her.
Collecting Sorrow
As babies died, Letby allegedly contacted people to let them know how upset she was. She explained how losing one child and then nearly losing his twin was so difficult. She texted colleagues about the heartbreak she endured when lives were lost. All along, according to prosecutors, it was her own actions causing the carnage.
Letby even messaged her mother to tell her they had lost a child. Her Mom responded with pride and encouragement, telling her daughter she loved her. She said the child was tiny and being watched over by a new employee, altogether omitting her part in the ordeal. She later texted that worker, Sophie Ellis, to convey they were a team and that they'd get through it together.
Copyright 2022, IntegrityPress.org