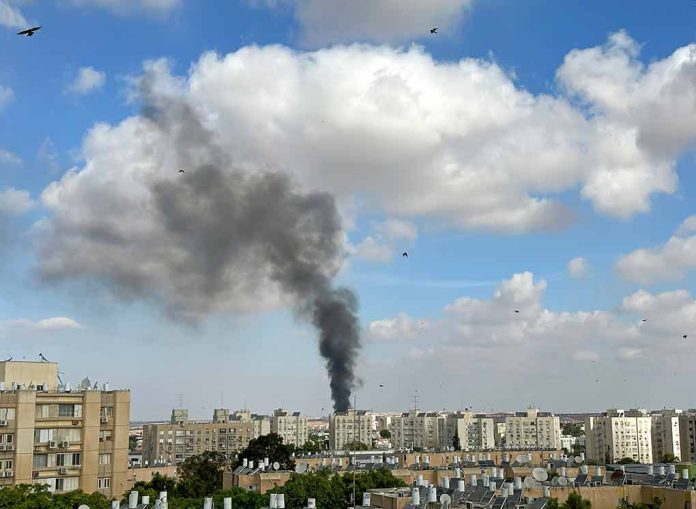 (IntegrityPress.org) – There is controversy regarding President Biden's response to the alleged hospital bombing in Gaza. During his recent visit to Israel on Wednesday, October 17, Biden told Israeli PM Netanyahu that it was the "other side" who caused the attack. He went on to say that he was deeply saddened by the news of the bombing and pledged that the US will continue to support Israel during this time.
Although Israel and Hamas point fingers at each other regarding the attack, there is no definitive proof of exactly what happened, and who may be responsible. Attempts have been made to figure out which side holds responsibility, but the current fog of war from the situation prevents any concrete investigation from being fully conducted. Some online investigations have put together footage of missiles and other military engagements within the area attempting to figure out how the hospital became struck in the first place. No conclusive evidence has been uncovered.
Most Western countries placed the blame on the Palestinians. Conversely, most of the Muslim world blamed Israel, using it as an example of the IDF using terror tactics on Palestinians.
The US has provided Israel with both financial and military support since Hamas group attacked it on October 7. The hospital was not holding only civilians, but also aid workers and hospital workers. The number of casualties is unknown, although most sources indicate it was hundreds. The attack marks a significant escalation in the conflict, as both sides faced mass condemnations from many countries.
Regarding Biden's remarks, some eyebrows were raised regarding the apparent lack of cohesion when speaking during his meeting with Netanyahu. Some were concerned regarding his comments about the "other team", as if Biden were comparing the conflict to a sports game.
As the conflict is ongoing it may take a while for any definitive truth regarding the bombing to be uncovered.
Copyright 2023, IntegrityPress.org