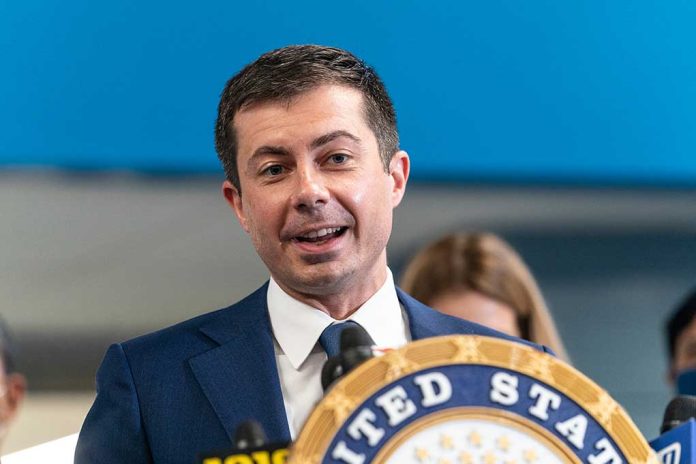 (IntegrityPress.org) – Transportation Secretary Pete Buttigieg has courted a lot of controversy since taking up his current role in President Joe Biden's administration. Conservatives were up in arms over his decision to take paternity leave when he and his husband, Chasten Buttigieg, became parents to twin babies last year. He's also faced criticism over his handling of transport-related issues, such as the widespread cancellation of flights in the United States in recent months. Now, he's catching heat over his decision to have his husband accompany him to the Invictus Games in Europe and allowing the taxpayers to pick up the tab.
What Is the Buttigieg Criticism About?
A report from Fox News Digital revealed that, in April 2022, Pete and Chasten Buttigieg traveled to the Netherlands to attend the Invictus Games. The Games are for soldiers and veterans who have fallen ill or become injured and feature a number of different sporting events. US presidential administrations typically send a delegation to the Games when they occur. Other officials and lawmakers attended the event alongside the transportation secretary and his husband.
Prince Harry set up the Invictus Games, and the inaugural event occurred in 2014. Since then, presidential delegations from the US have attended in 2016, 2017, and 2018, as well as at the first event in 2014.
The Fox News report also highlighted how Secretary Buttigieg has come under scrutiny for his extensive use of military jets for private use during his time with the Biden administration. This subject has been particularly controversial given Buttigieg's hardline stance on promoting anti-climate change initiatives and the extreme carbon emissions of private jets compared to other means of travel.
Buttigieg's Response
The transportation secretary appeared on Fox News for an interview after this scandal started hitting mainstream media outlets. He fiercely defended his actions. For instance, the secretary highlighted the fact that previous heads of presidential delegations to the Invictus Games had also brought their spouses to the event. He also admitted he had not reimbursed the taxpayers for his husband's attendance but insisted that the expense was fair.
Buttigieg also stressed the importance of the games for the veteran community. He noted that some Ukrainian service members participated in the Games before traveling back to their home country to fight against invading Russian forces.
Wow pic.twitter.com/9gccU53NCh

— Acyn (@Acyn) January 6, 2023
Do you think Pete Buttigieg is in the wrong here? Should he reimburse American taxpayers for his husband's expenses on this expensive trip to the Netherlands?
Copyright 2023, IntegrityPress.org