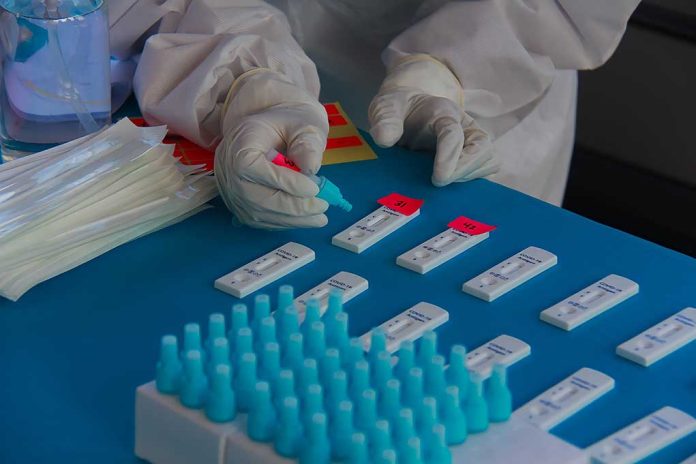 (IntegrityPress.org) – A biolab in California, reportedly linked to a Chinese-affiliated company, has been discovered to be operating without a license. The facility was uncovered by local and federal authorities in Fresno County. It is housing around 20 potentially contagious diseases including coronavirus, HIV, hepatitis, and herpes. It also contains hazardous materials, medical waste, and dead or dying mice used for testing.
According to public records, because of pandemic-era funding for businesses, the lab received half a million dollars in funding.
The mice within the warehouse were reportedly found in nasty conditions. After control of the warehouse was in police hands, the city chose to euthanize 773 of the mice, while more than 175 were already found dead.
The tenant of the warehouse was a company called "Prestige BioTech," with its seat in Nevada. Its president Xiuquin Yao was interviewed by city officials and claimed that Prestige BioTech was a creditor and successor of a company "Universal Meditech Inc" and moved its assets to the warehouse after UMI got evicted.
However, the government investigators found that the company's ownership utilized "addresses in China that were unverifiable" or empty office buildings. Prestige BioTech also lacked the necessary licensure to operate in California.
Bio labs tied to China have stirred considerable debate recently. Official statements from the US Department of Energy and the FBI suggest that the recent pandemic potentially originated from a lab incident in Wuhan, China. FBI Director Christopher Wray, in an interview with Fox News, stated that recently the FBI is more open to the idea. Also, Dr. Li-Meng Yan, a prominent Chinese virologist, asserts that the virus' spread was not an "accident". This marks a change in the official hypotheses of the origin of the 2020 pandemic.
The Centers for Disease Control and Prevention conducted tests on the substances within the lab, identifying a minimum of 20 potentially contagious agents. The dangerous substances were properly disposed of and the nearby residents in the area are presumably safe.
Copyright 2023, IntegrityPress.org