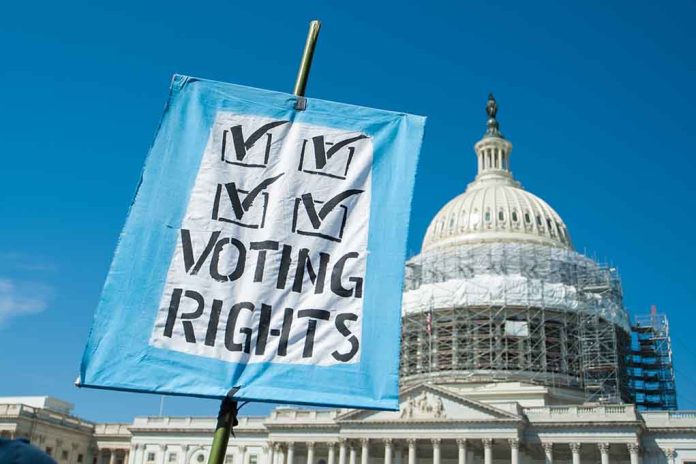 (IntegrityPress.org) – Republican party Senators Katie Britt and Tom Cotton criticized the Biden administration this week for supporting a bill, the Local Resident Voting Rights Act, introduced by the Washington D.C. Council. The bill extends the right to vote to illegal immigrants and non-citizens for the first time in U.S. history. The controversial move could allow criminal aliens to influence U.S. elections.
The law also seeks to give more voting rights to residents of Washington, D.C., overall.
The Republican-led House Oversight Committee already successfully passed a joint resolution expressing GOP discontent with the bill. Senators Britt and Cotton also put forward their own bill seeking to reject the law.
With the Republicans controlling the House and the Democrats controlling the Senate, it's much harder for the Biden administration to pass new laws, though a resolution will not stop it.
The local D.C. law was introduced by the D.C. Council in 2021 and was passed in October, 2022. Now, the law is expected to go into effect some time in early March, and it won't require the consent of Mayor Muriel Bowser.
The legislation appears to be endorsed by the White House, however. In a Statement of Administration Policy published by the White House, the Biden administration said that it was long past due for the 700,000 residents of Washington, D.C. to have "full representation in the U.S. Congress."
The Biden White House appeared to support making D.C. a state, claiming that the current system allows for "taxation without representation."
Speaking about the legislation last week, Senator Britt accused Democrats and local politicians in D.C. of reducing the value of American citizenship by allowing illegals to vote, and insisted that the law will reduce Americans' faith in the electoral system. Britt also argued that the legislation would make it easier for foreign adversaries to vote in local elections, and theorized that loosening these laws now will only make the migration crisis at the southern border even worse.
Copyright 2023, IntegrityPress.org