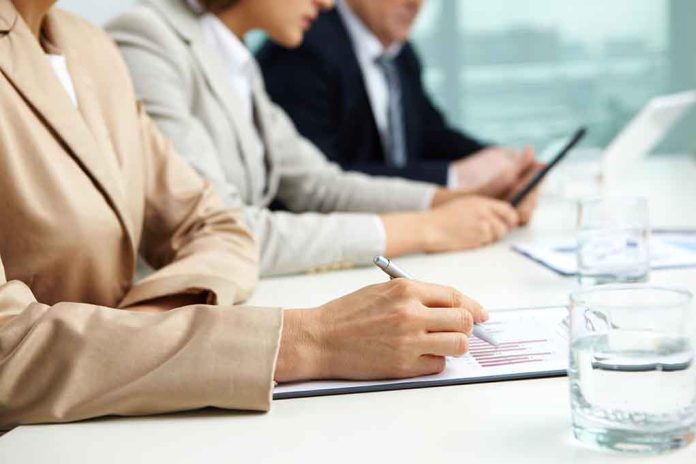 (IntegrityPress.org) – The League of Conservation Voters and Climate Power, two far-left environmental groups, held an internal training session in March 2021 on climate communication strategies for Biden administration appointees, according to Energy Secretary Jennifer Granholm's internal agency calendar.
The session was meant to help climate agencies learn how to promote the work of these groups in an impactful way, the calendar said. Granholm attended the session and delivered the opening remarks. Both LCV and Climate Power have received financial backing from massive liberal dark money groups, which cannot be traced to individual donors. In 2021, LCV reported receiving $114.7 million in donations including large contributions from the Sixteen Thirty Fund and the Fund for a Better Future.
Climate Power, on the other hand, is a project of LCV, Center for American Progress (CAP), and Sierra Club, which have all received massive donations from unknown donors, according to Influence Watch. The group has received millions of dollars from LCV and Fund for a Better Future, and it also receives administrative backing from the latter. Climate Power's original advisory board members included John Kerry, Stacey Abrams, billionaire investor Tom Steyer, Gina Mccarthy, former climate advisor for the White House, and Samantha Power, a former ambassador from the US for the UN. American Federation of Teachers President Randi Weingarten has also joined the advisory board.
During the 2022 midterm election, Climate Power's political action committee gave $6.3 million to Democrats, with Senator John Fetterman, from Pennsylvania, receiving $1.6 million alone. On its website, LCV also states that it seeks to create a society with just and equitable democracy, clean air, water, public lands, and a safe environment by influencing legislation, holding accountability for politicians, and winning elections. Critics, however, say that the groups are bankrolled by foreign billionaires and are pushing green energy policies at the expense of other important issues, such as lowering gas and food prices for consumers.
Copyright 2023, IntegrityPress.org