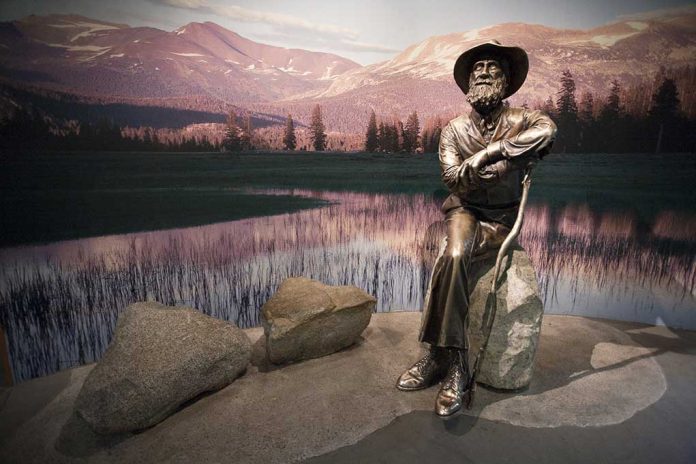 (IntegrityPress.com) – America is home to several beautiful national parks. We have many people to thank for their conservation efforts to keep these places nice. Of all those who put forth such undertaking, there is one name that should stick out more than the rest, and that's John Muir.
Yosemite National Park
In 1889, it was John Muir who helped propose the boundaries of this legendary park. Muir also wrote articles in magazines, which helped to ensure the formation of the Yosemite National Park in 1890. He was a co-founder of the Sierra Club in 1892, which aided in protecting Yosemite after its establishment.
It's easy to see why John Muir is so closely related to the national park. His first shelter, just a short walk from Yosemite Fall Trails, is anything but well marked, but if you do find the site, it's easy to see the Yosemite Muir was inspired by.
John's Life
John Muir was a farmer, sheepherder, conservationist, explorer, naturalist and inventor. He was born April 28th, 1838 in Dunbar Scotland, but in 1849, his family traveled to the United States and became citizens. Eventually, the family moved to Hickory Hill Farm in Wisconsin, near Portage.
John's father was a hard-working, dedicated man, pushing his family from dawn until dusk. While free time was scarce, John and his brother made the most of it and explored the beautiful Wisconsin countryside. As time went on, John fell more and more in love with observing nature. Muir became somewhat of an inventor, creating unique carvings out of different woods and even making a device that helped him out of bed in the morning.
John took his inventions to the state fair in 1860 and won admiration and prizes. He enrolled in the University of Wisconsin that same year. However, his college days only lasted three years before he left and traveled to the northern United States and Canada, completing small tasks and odd jobs to make his way through.
Tragedy Turned Triumph
While working at a carriage repair shop in Indianapolis, Muir suffered an injury that effectively blinded him in one eye. Finally, when he regained vision in said eye, he decided to turn his focus to the woods and fields. Muir walked a thousand miles from Indy to the Gulf of Mexico, eventually sailing to Cuba, then to Panama and soon up the West Coast, landing in San Francisco in 1868. John went on to explore the world from there, traveling to China, Alaska, Japan, Australia, Europe and South America, though he called California his home.
Later Years
In John Muir's later years, after traveling the world, he wrote 300 articles and 10 serious books that described his travels and experiences. Muir's love for nature and the high country was well established through his work, inspiring everyone from everyday Americans to presidents and congressmen. His work helped us form Yosemite and preserve some of America's most beautiful landscapes. For that, we thank him.
Copyright 2022, IntegrityPress.com