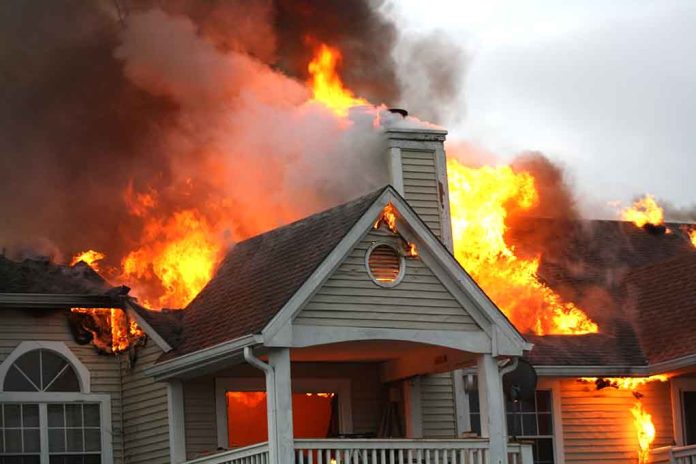 (IntegrityPress.org) – A house explosion in the town of Plum in western Pennsylvania has killed 5 people on Sunday, August 13. Plum is located around 20 miles from Pittsburgh. 
Lanny Conley, the police chief in the town, reported that the explosion took the lives of four adults and one teen. The explosion caused the destruction of three houses and severely damaged around 12 others. Two out of the 3 injured people taken to hospitals for treatment were eventually discharged, but one person remains in critical condition. 
Emergency services deputy director for Allegheny County, Steve Imbarlina, noted that 57 firefighters were also treated on-site for minor injuries. Responders reported that at their arrival, there were people stuck inside the ruins of the houses, and that some were alive while others had died. 
Many of the witnesses at the scene described the aftermath as "chaotic". Nearby resident George Emanuele said he assisted an injured man from the yard of the exploded house along with a neighbor before the flames worsened. Rafal Kolankowski, another resident, explained how the blast shattered windows and blew open doors, causing him and his wife to fall to the floor. 
Gas and electric services were shut off temporarily in the neighborhood so that assessments could be made if there was still a threat to other homes at the time. Michael Huwar, president of Peoples Gas, emphasized that according to their gas leak checks, the system was functioning properly. 
The Allegheny County medical examiner's office will be releasing more information about the victims once more information is known. Imbarlina stated that the investigation will involve substantial forensic testing that could span "months if not years."
Allegheny County Executive Rich Fitzgerald declared that the incident is a sad day for the county and state. Governor Josh Shapiro expressed sympathy and support for the affected families, assuring them he will provide help in any way he can.
Copyright 2023, IntegrityPress.org