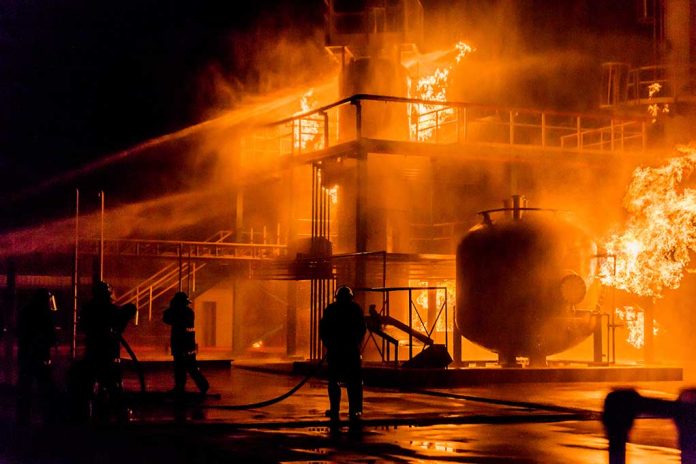 (IntegrityPress.org) – Nationwide supply chain problems may be about to get worse. Eight people have been injured following an explosion and fire at a central Illinois processing plant that handles regional food distribution. Of the eight that were wounded, five are still reported to be in the hospital.
The September 10 events took place at a Decatur-based complex owned by Archer-Daniels-Midland a little after 7pm local time. ADM administration said they "immediately contacted" the local fire department and that emergency services quickly transported a number of their injured staff to an area hospital to be treated.
Company leadership said their "colleagues" were in their "thoughts," but that investigators did not yet know what had caused the initial explosion. According to a statement, the facility is still unable to process both soy and corn and it remains "unclear" as to when operations can be resumed.
It is unclear how much of an effect the events will have on local, regional or national food production and distribution, but corn and soy are staples of the food and agriculture industries. Soy is used commercially in everything from tofu to oils, but the product is considered vital among cattle producers, who often use it as a component in livestock feed.
Corn's uses are often thought by many to be limited only to food production, but the versatile grain also has a number of industrial uses. Elements from it can be found in toothpaste, rubber tires, fireworks, diapers, crayons, toilet paper, drywall and soap.
The recent explosion in mid-America is likely to only add to growing concerns many see unfolding with the nation's supply chain. Events taking place outside the United States have affected both food availability and pricing on stateside shelves.
The war in Ukraine has led to an artificial bottlenecking of the world's grain supply. Elsewhere in the world, the Panama Canal is experiencing an industrial scale traffic jam due to unusually low water levels.
Copyright 2023, IntegrityPress.org