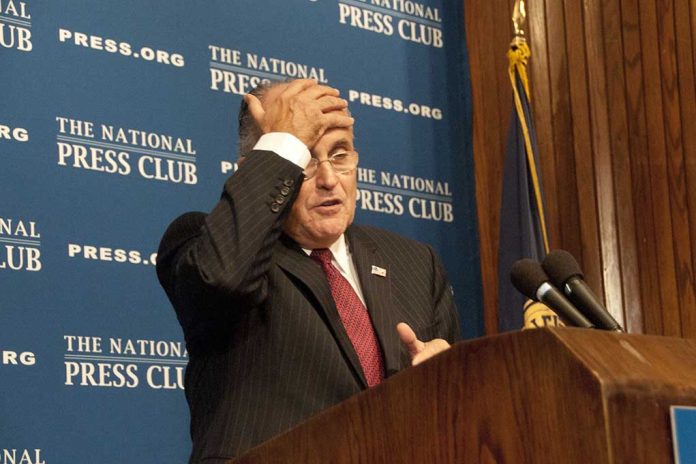 (IntegrityPress.org) – Rudy Giuliani claimed this week that Iranian spies are working within the United States government. Giuliani, the former mayor of New York City and personal attorney to former President Donald Trump, made the claims during an interview with Newsmax and attracted significant controversy.
Giuliani's accusations do not come at the best time, either, given the instability in the middle east. The situation worsened when Hamas launched an invasion in southern Israel, which has since become the most important topic in Western nations' political discussions.
During the interview, Giuliani claimed that President Joe Biden is "on Iran's side" and "on Hamas' side." Giuliani also claimed that the president is not operating with the best interests of the United States at heart, that he has a "bunch of spies" in his administration, and that he is "working for Iran."
According to the former NYC mayor, the root of the problem is the communist infiltration of the late President Franklin D. Roosevelt's administration.
President Biden recently placed the blame of Israel's bombing campaign in Gaza on Iran. Biden appears to have made the suggestion as a result of Hamas' known connection to the Iranian regime. He also condemned the relationship between Iran, China, and Russia, using that relationship as another point to explain the renewed anti-western sentiments. These comments may show that Biden can toughen up on Iran and they seem to counter Giuliani's allegations of the Biden administration being aligned with Iran's interests.
The remarks remain unverified and are largely met with skepticism among viewers. While some express belief in his assertions, many others find them unfounded and unsubstantiated.
The US has a tough system of checks and balances, especially regarding alleged espionage. Claims of widespread infiltration should be investigated thoroughly and if they are found to be true, should be dealt with accordingly.
But, because there is no solid evidence, Giuliani's comments are seen by many as false. The coming days will reveal whether there is any truth to these allegations or if they remain in the realm of unsubstantiated conspiracy theories.
Copyright 2023, IntegrityPress.org