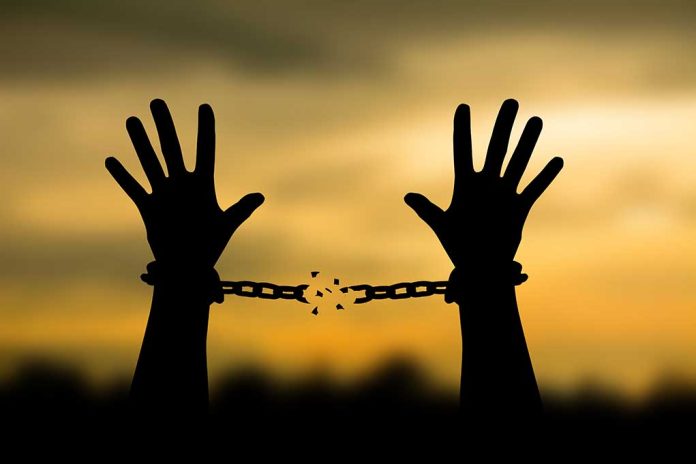 (IntegrityPress.org) – One day before the anniversary of 911, Virginia's highest official chose to grant an "absolute pardon" to the man whose arrest at a local school board meeting went viral. Governor Youngkin followed through on the order after determining that the father of a raped daughter was guilty of nothing more than exercising his constitutional rights.
Scott Smith, the subject of the pardon, arrived at a 2021 district board meeting with the intention of listening to and joining in a discussion about the district's policy on transgender bathroom use. Only weeks before, the policy in question had led to his daughter being raped in her school bathroom by a male student who claimed to identify as female.
Upon arriving at the meeting, Smith had planned to allow his daughter to blast the crowd and board officials with a megaphone about the facts of her case. While there, a reported leftist by the name of Jackie Schworm approached Smith and is said to have threatened to ruin his livelihood using social media. His verbal reaction to the activist led to a scuffle with police and he was arrested.
Smith was later charged with Disorderly Conduct and Obstruction of Justice and the father found himself convicted almost immediately. An appeals court later disqualified the prosecuting attorney in his case for matters of "integrity," but Smith's conviction stood.
Buta Biberaj, the Democrat prosecutor overseeing the events, had initially argued that Smith needed to be jailed. Because he had only been charged with the equivalent of a misdemeanor, Smith was also denied a trial by jury.
Smith's legal journey is flanked by a number of other events related to the rape of his daughter that many would consider atrocious. Officials denied that an assault had taken place for some time after the fact and the convicted rapist will remain off the state's offenders registry due to a mistake on the part of the prosecutor.
Copyright 2023, IntegrityPress.org