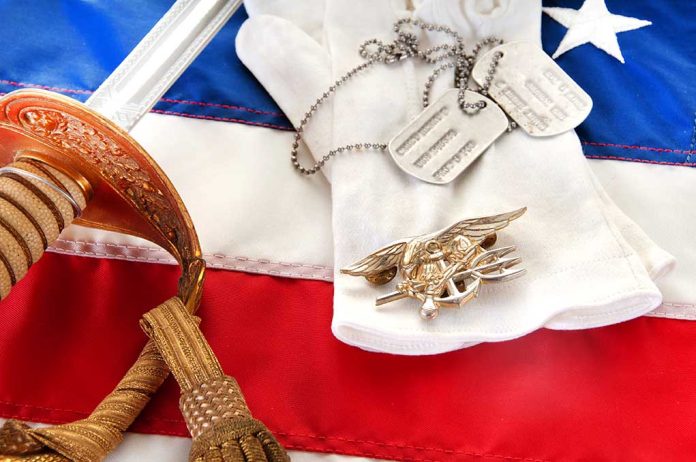 (IntegrityPress.org) – A former US Navy SEAL, Robert J. O'Neill, who claims to have been the person who killed Bin Laden, has been recently arrested for assault.
On Wednesday, August 23, police took the 47-year-old O'Neill into custody in Frisco, Texas. He was charged with public intoxication and assault, which resulted in injuries – both misdemeanors. They released him on the same day after he paid a $3,500 bond.
O'Neill was in Frisco to record a podcast about the events during and leading up to Osama's death during the raid in 2011.
He enlisted in 1996 and subsequently joined SEAL Team Six. Throughout his tenure, he participated in numerous missions and earned multiple awards, including Silver Stars, Bronze Star Medals, and commendation medals. He had also previously sparked controversy for not wearing a face mask during a flight amid the Covid-19 pandemic.
In 2014, O'Neill's identity was revealed by fellow special forces personnel irked by his disregard for the code of silence prohibiting public acknowledgment of their actions. In 2015, O'Neill and his family reported facing threats from ISIS. O'Neill claimed that him and a fellow SEAL got Bin Laden into a corner and then he executed him after the other SEALs shot missed.
On the other hand, Matt Bissonnette, another SEAL, recounted in his book that an unnamed point man delivered the lethal shots. Another SEAL claimed that O'Neill approached the incapacitated bin Laden and executed him point blank.
Both O'Neill's and Bissonnette's narratives were criticized for containing misleading details. The US government neither confirmed nor refuted O'Neill's assertion of killing Bin Laden.
Rear Admiral Brian L. Losey and Force Master Chief Michael Magaraci highlighted the SEAL ethos, which prizes discretion and humility. O'Neill defended his choice to reveal his identity, describing it as a burdensome secret to uphold, and believed all involved were proud of their achievement. He even wrote a memoir chronicling his military service.
Copyright 2023, IntegrityPress.org