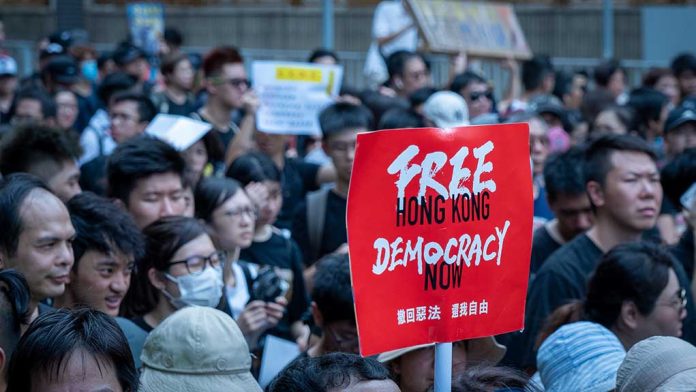 (IntegrityPress.org) – Five members of the US Congress, including Representative John Curtis, are subjects of a petition filed with Hong Kong's High Court, seeking their arrest if found in the city. The individuals named in the petition are Curtis, Young Kim, James McGovern, Dan Sullivan, and Jeff Merkley.
These calls for arrest stem from their involvement in introducing bipartisan legislation that proposes financial sanctions on Hong Kong government officials, law enforcement personnel, judges, and prosecutors, responding to alleged human rights violations linked to the enforcement of restrictive national security laws by the Chinese Communist Party.
Representative Curtis, representing the 3rd Congressional District in Utah, has been active in introducing several bills related to Hong Kong and the Chinese Communist Party. The legislation proposed by the bipartisan group seeks to hold specific Hong Kong officials accountable for human rights abuses.
In response to the petition, Curtis conveyed his commitment to advocating for freedom and democracy in Hong Kong, expressing concern over the erosion of freedoms in the region over the past few years. He highlighted his legislative efforts, including the Hong Kong Safe Harbor Act in 2020, aimed at facilitating the asylum process for Hong Kong refugees in the US.
Additionally, Curtis introduced the Hong Kong Business Integrity and Transparency Act in 2022 and 2023, designed to monitor instances where Hong Kong authorities compel US companies to disclose sensitive data or engage in activities related to the government.
Curtis remains resolute in the face of calls for arrest, asserting that attempts to silence his advocacy for freedom will only strengthen his resolve. The legislation introduced by Curtis and his colleagues empowers President Joe Biden to impose sanctions on Hong Kong officials found in violation of human rights laws.
Representative Kim, responding to the calls for arrest, emphasized the significance of her bipartisan efforts in supporting Hong Kongers and pledged to continue her fight for freedom and democracy against the Chinese Communist Party's authoritarian regime.
Copyright 2023, IntegrityPress.org