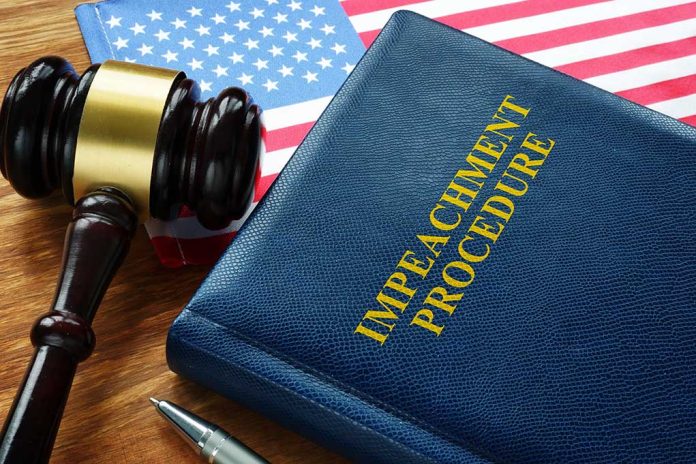 (IntegrityPress.org) – On Monday June 12, Republican Representative Anthony Ogles from Tennessee introduced articles of impeachment against President Biden and Vice President Kamala Harris.
According to the articles, Biden is accused of misusing his position as president and vice president to shield his family's business and influence-peddling activities from accountability and oversight. Ogles asserts that Biden's leadership has been a failure and that he has violated his oath to uphold the Constitution.
The congressman claims that Biden has repeatedly abused his power by covering up illicit family business dealings and the misuse of taxpayer resources. One of the articles of impeachment specifically criticizes the Biden administration's handling of the southern border, highlighting the influx of illegal immigrants and drugs into the United States. If impeached, the potential consequences for Biden include removal from office and a potential ban from future government service.
The impeachment articles concerning Vice President Harris focus on her performance in her role and her approach to addressing issues at the southern border. The documents accuse her of demonstrating significant incompetence in carrying out her responsibilities related to border matters. Ogles is not the only one to introduce Articles of Impeachment against the Biden Administration recently either.
The situation mirrors the previous impeachment articles that were filed against former President Donald Trump back in 2019. The charges against Trump were filed only a year before the 2020 presidential elections. Ogles' impeachment articles against Biden also come only a year before the 2024 presidential elections. The general lead up to the 2024 elections has been chaotic, with controversies surrounding several of the likely competitors.
Trump's recent indictments, the general split in the GOP over whether to support or denounce him, the many controversies over Biden, and the increasing criticism of Ron DeSantis, indicate a presidential election cycle that will likely be filled with drama.
Copyright 2023, IntegrityPress.org