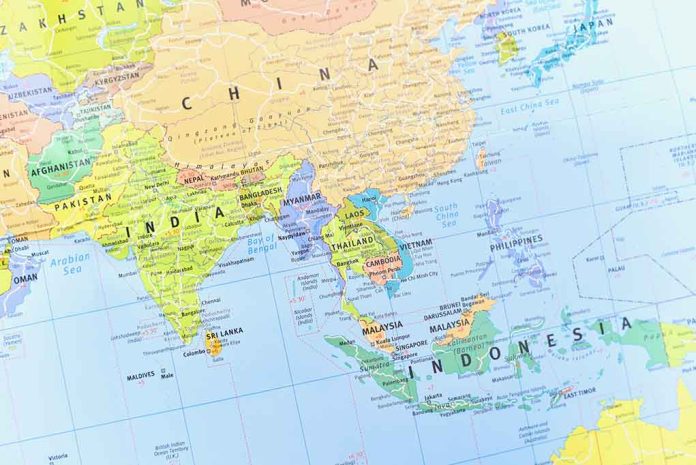 (IntegrityPress.org) – On Monday, October 23, the United States restated its commitment to defend the Philippines against armed attacks as outlined in a 1951 treaty. The reaffirmation comes after the Chinese tried to block two Filipino ships and ended up crashing into them near the contested Second Thomas Shoal in the South China Sea.
On Monday, diplomats from the Philippines summoned an official from the Chinese Embassy in Manila for a strongly-worded protest in response to Sunday's collisions near Second Thomas Shoal. Although nobody was hurt, the incidents resulted in damage to a Philippine vessel of the Coast Guard and a supply boat owned by the Navy.
Following the high-level meeting, Defense Secretary Gilberto Teodoro strongly criticized China during a news conference. He accused China of resorting to "brute force," endangering Filipino crew members, and distorting facts to hide its aggressive actions. Teodoro emphasized that China lacks the legal right or authority to conduct law enforcement operations in Philippine territorial waters and its exclusive economic zone.
In the most recent incident on Sunday, October 22, approximately five Chinese Coast Guard ships that were patrolling with eight other boats and two navy ships formed a blockade. The blockade appears to have been a deliberate attempt to prevent two Coast Guard ships from the Philippines and two boats from food and supplies deliveries from meeting the Philippines military, which was stationed on a navy ship at Second Thomas Shoal.
Amidst the tension, a Chinese coast guard ship collided with a Philippine coast guard ship and a supply boat. Only one of the two Filipino boats successfully delivered supplies to Philippine forces.
The Chinese coast guard blamed the Philippine vessels for the collisions, accusing them of carrying construction materials to strengthen their outpost at the shoal.
President Marcos has ordered an investigation into these high-sea collisions, according to Teodoro, although specific actions to be taken by the Philippine government have not been disclosed.
Remarkably, Beijing is hosting the negotiations, which began on Monday. This development is seen as ironic given China's recent actions are a blatant disregard of international law, as noted by Defense Secretary Teodoro.
Copyright 2023, IntegrityPress.org