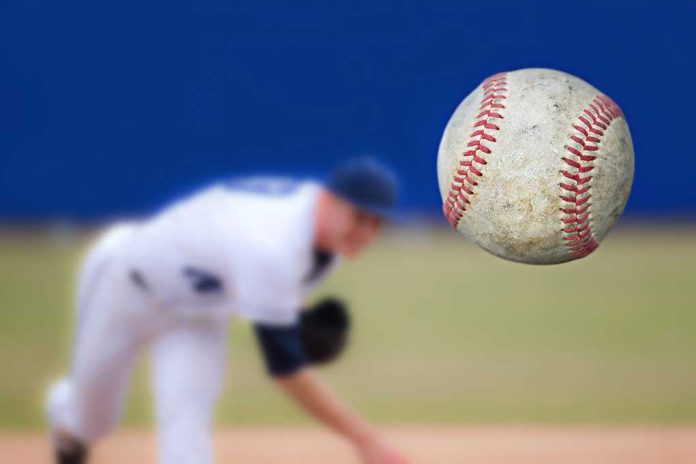 (IntegrityPress.org) – Most people associate the IRS with tax season when they claim the year's income and expenses and either collect a refund or owe Uncle Sam. However, this isn't the only time people may find themselves in debt to the federal agency. For example, the IRS takes a portion of all lottery winnings and also from what it deems as income — even if you happen upon it by luck. Such was the case recently with a home run baseball caught by a fan.
On Tuesday, October 4, Aaron Judge hit his historic 62nd home run. A lucky fan — later identified as Cory Youmans — caught the ball as it flew into the left-stand seats. He decided to put the ball up for auction after turning down a private offer to buy the memorabilia. In the end, the baseball sold for half of the private offer, but it was a lofty sum — $1.5 million — for someone who just happened to catch a ball.
The baseball that New York Yankee superstar Aaron Judge hit to notch his record-setting 62nd home run of the 2022 season was sold for $1.5 million in an auction. https://t.co/qjtbNHdw6N

— Spectrum News 1 ROC (@SPECNews1ROC) December 18, 2022
However, Uncle Sam is likely owed his due. It's known as the "treasure trove" or windfall tax, established by the court case, Cesarini v. United States. The court's decision declares that found money, such as that gained from catching a valuable baseball, is subject to taxes.
Had Youmans returned the ball, he could've gotten off tax-free, but that's not the case. Speaking to Fox Business in October, H&R Block chief tax officer Kathy Pickering said, of an individual hangs onto the ball for less than a year, normal income rates apply. This could be as low as 0% or as much as 20%, depending on Youmans' income.
Since he sold it rather quickly, Youmans will owe money — the question is just how large will his tax bill be? He'll find out soon.
Copyright 2022, IntegrityPress.org