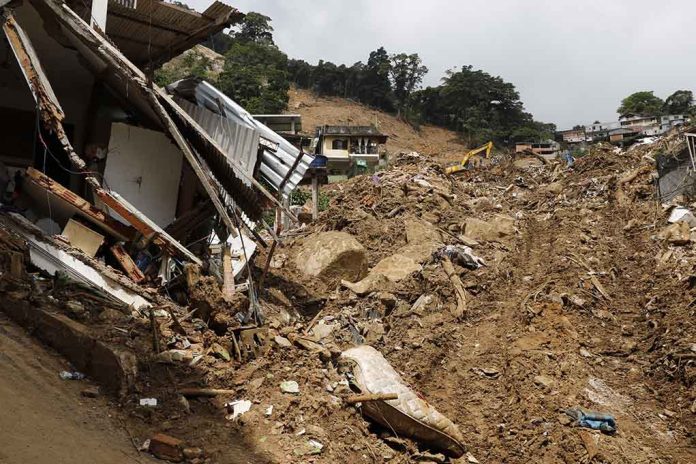 (IntegrityPress.org) – On Sunday, August 13, heavy rains in Kachin, a state in the country Myanmar, caused a landslide at the jade mine. 36 people, many of them scavengers and prospectors, are currently missing.
The affected area is owned by Jade Leaf Co, but operations are currently halted due to the ongoing rainy season. A rescue worker reported that 36 people remain missing, and no bodies have been found so far. Numerous people were injured, and eight required hospitalization for treatment. The search and rescue operations are in progress, but they are hindered by minor landslides that keep occurring.
Video footage depicts the aftermath of the catastrophe. Muddy embankments encircling the mine's caldera are submerged by brown water, showing the nearby cliff where some of the scavengers were thrown off. Divers are currently unable to access the caldera pool and are using motorboat hooks to retrieve any bodies they may find.
Most of the missing people illegally ventured into the block to look through excavated areas and debris for valuable gems. A recent statement from Global Witness, a UK-based rights organization, revealed that nearly 400,000 people in Myanmar make their living scavenging precious stones in the area affected by the landslide.
A survivor recounted how he recognized the impending danger, as he had encountered similar landslides in the past. Despite trying to issue warnings to those under the cliff, the victims could not hear him and he witnessed them being engulfed by the landslide.
Another witness recounted that the victims could not reach safety due to the constant flow of water. He said that the government is to blame for any deaths resulting from this incident. This area has suffered from poor mining oversight, which has been made even worse by Myanmar's military junta that assumed power following a coup in February 2021. Similar incidents in the area have caused almost 300 fatalities as recently as 2022.
Copyright 2023, IntegrityPress.org