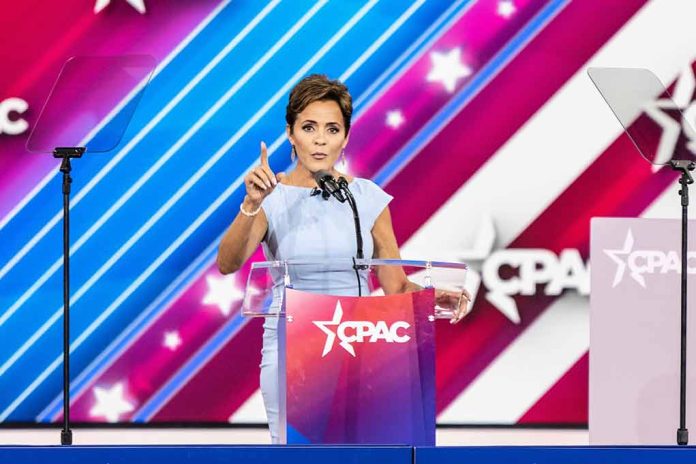 (IntegrityPress.org) – Arizona's Republican Senate candidate, Kari Lake, has criticized The Arizona Republic newspaper, alleging that they declined to publish her op-ed supporting Donald Trump's border wall. She alleges they instead permitted her opponent, Ruben Gallego, to submit one opposing it.
Lake, a former candidate for governor in Arizona, expressed her frustration on the "X" social media platform, emphasizing the newspaper's refusal to feature her piece outlining plans to "secure" the US-Mexico border. The border wall was a pivotal promise in Trump's 2016 campaign to curb illegal immigration. However, upon assuming office in January 2021, President Joe Biden halted the construction of any remaining border walls from the Trump era. In October, the Biden administration announced waivers for 26 environmental laws to construct additional border barriers in South Texas, citing a funding decision from 2019 under Trump.
Lake, who asserts that a majority of Americans support Trump's border wall, referenced a poll indicating that over half of likely voters in 6 swing states favored its construction.
In her Twitter post, she criticized her Democratic opponents for opposing the wall, particularly highlighting Gallego's op-ed on the subject. Lake claimed that The Arizona Republic rejected her op-ed because she refused to omit the term "invasion" as per their request.
Lake, a vocal MAGA supporter, faced defeat in the 2022 Arizona race for governor, losing to Democrat Katie Hobbs by over 16,000 votes. Contesting the results, Lake has an ongoing lawsuit demanding Maricopa County release images of 1.3 million ballot envelopes signed by voters.
In October, she announced that she would be attempting a run for the Arizona senate. She will be facing against local Arizona sheriff Mark Lamb. While most of her attempts to contest the 2022 midterm results have been dismissed by state courts, Lake awaits a ruling on her ballot envelope lawsuit. Nonetheless, locally and nationally, Arizona is a crucial battleground state as Republicans seem intent on taking it back from the Democrats in 2024.
Copyright 2023, IntegrityPress.org