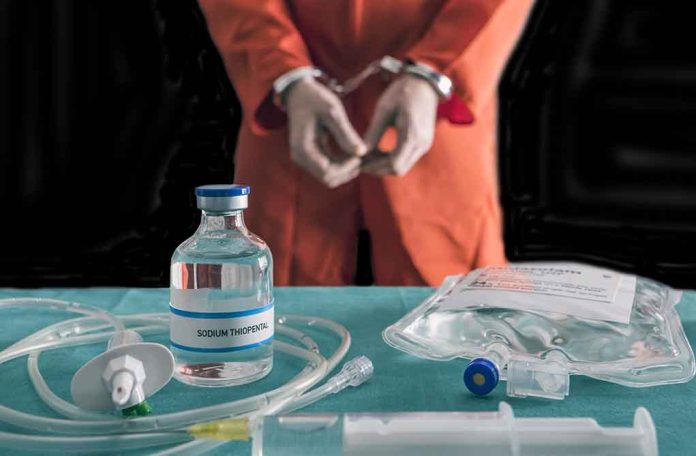 (IntegrityPress.org) – Two men came to the Texas home of Farah Fratta in November 1994 and murdered her. She was only 33 years old at the time. Following an investigation, the authorities determined that her estranged husband, Robert Fratta, had paid for a hit on his wife. Though Fratta strenuously denied the charges against him, a court convicted him of murder and pronounced a death sentence. On Tuesday, January 10, the state of Texas executed Robert Fratta via lethal injection.
Fratta Executed Despite Numerous Appeals
The execution, carried out via a lethal injection of pentobarbital, took place in the Texas State Penitentiary in Huntsville.
Robert Fratta had launched a number of appeals to avoid the death penalty. The most recent attempt centered around an argument that Texas would use expired drugs in the execution, making the procedure unsafe. He and three other death row inmates attempted to challenge their sentences on this basis, but the court rejected the argument on Tuesday, the same day as Fratta's execution.
Fratta also became an outspoken opponent against the use of the death penalty in general prior to his execution. He said he hadn't thought much about it when he worked as a police officer, but his own experience had turned him against it.
Robert and Farah Fratta had become embroiled in a contentious divorce battle prior to Farah's murder. They both fought hard to secure custody of their shared children. Both of the men Fratta hired to carry out the hit, Joseph Prystash and Howard Guidry, remain on death row in Texas after courts convicted them alongside her estranged husband for their roles in Farah Fratta's slaying. Reports state they haven't yet learned their execution dates.
Robert and Farah Fratta's eldest son, Bradley Baquer, was the only one of their three children to attend the execution. Zain Baquer, Farah Fratta's brother, was also there. However, the condemned man didn't acknowledge either, as attendants prepared him for death. Fratta also chose not to utter any last words.
The Case Itself
When investigating the murder, prosecutors learned that Fratta had hired Joseph Prystash as a middle-man. Prystash then went on to hire Howard Guidry to carry out the shooting. On the day of the murder, Guidry approached Farah Fratta while she was in the garage of her home.
Robert Fratta denied he had anything to do with the murder, but the custody battle he had been going through with his estranged wife aroused investigators' suspicions.
Copyright 2023, IntegrityPress.org