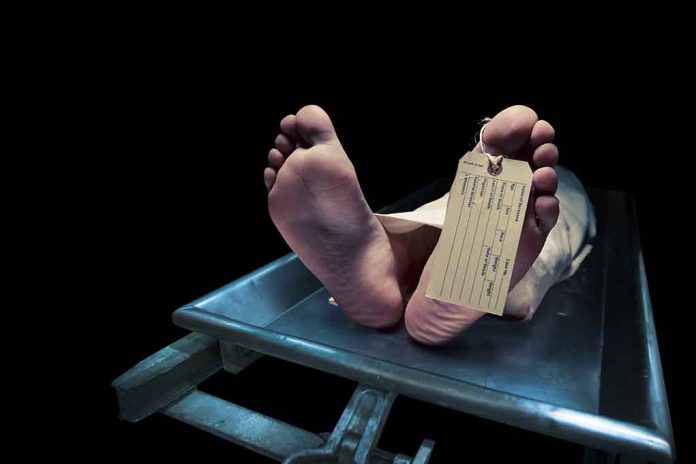 (IntegrityPress.org) – An NYPD sergeant was suspended without pay after officials say he threw an object at a suspect who was attempting to flee.
Sgt. Erik Duran was attempting to arrest 30-year-old Eric Duprey for allegedly selling drugs to an undercover officer when Duprey grabbed a friend's motorcycle and tried to take off. Duran grabbed a nearby cooler that was filled with cans of soda from bystanders and threw it at Duprey, who was fleeing down the sidewalk on the motorcycle. The cooler hit Duprey, which caused him to lose control of the motorcycle and slam into a parked car.
While officers attempted CPR immediately, Duprey was declared dead at the scene by EMS.
According to an official statement from the police department, Sgt. Duran was suspended without pay the following day, and a full investigation is underway. According to the NY Post, an internal memo was sent to the department, warning that the incident had a "high potential for unrest." The memo also warned officers to keep their batons and helmets in their police cruisers.
A vigil and memorial site for Duprey formed at the spot where he died. Family members and neighbors spoke highly of Duprey, calling him a "good person" and a "humble dude."
The New York Daily News spoke to a fellow officer in the department said Duran's actions—throwing an object at a fleeing suspect—is "not consistent with guidelines."
The attorney for Sgt. Duran, Andrew Quinn, spoke to the media and said there's "more to the incident" than what can be seen in a short CCTV clip. Quinn said he feels "confident" in Sgt. Duran's exoneration after a full investigation is complete.
Sgt. Duran has been a member of the NYPD for 13 years and has been recognized for "excellent and meritorious" service at least a dozen times. According to the NYC Civilian Complaint Review Board, Duran was disciplined for "abusing his authority" during a stop at some point in 2022.
Copyright 2023, IntegrityPress.org