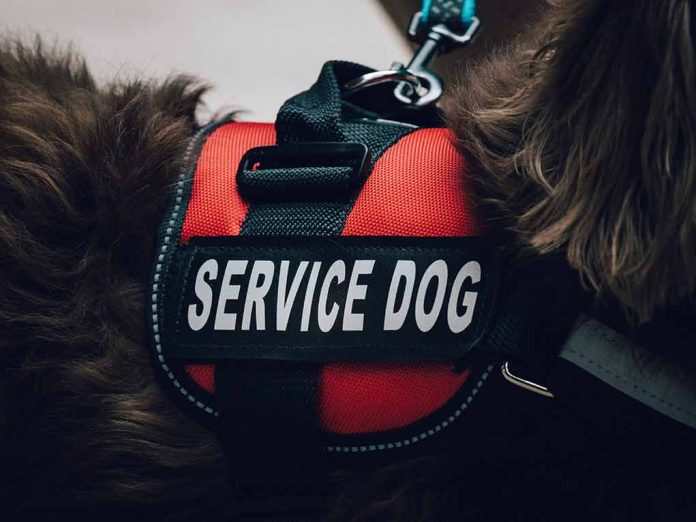 (IntegrityPress.org) – A service dog in Waynesboro, VA was shot and killed by a neighbor on Saturday, September 16. Louis Davis, 67, is facing charges from the incident. He has a chance to be charged with both animal cruelty and a misdemeanor charge regarding firearms.
The Augusta County Sheriff's Office stated that the animal cruelty charge is a felony and that the shooter is in custody. A lieutenant from the office, Leslie Snyder, revealed more information to news outlets about the context of the case. She said that the dog in question, a Husky named Bear, was confirmed to have been shot. According to Snyder, the dog had gotten loose and jumped the fence from the owner's yard. It's unknown whether Davis ever had issues with his neighbor or the dog itself.
The initial call was placed by the owner on the morning of the Saturday that the gunshot happened. The unidentified owner of the dog told police that he had heard a gunshot outside of his house along with the yelp and cry of a dog. When he checked where his own dog was, he realized Bear was not in the backyard, which is the last place he saw the dog. He then searched around outside only to find his dog motionless on a road near his house. Upon further investigation, the dog received a gunshot wound to its spine. The dog was pronounced dead on arrival at the Waynesboro Animal Hospital.
Snyder alleges that because Bear was a service dog, the charges against Davis hold even more weight. The shooting may turn out to be justified though, as the details of what the dog was doing after it had escaped the owner's yard are currently unknown. If the dog posed a threat to Davis or his family, or his animals, he is legally allowed to use deadly force against it.
Davis is being held indefinitely at the Verona Middle Regional River jail.
Copyright 2023, IntegrityPress.org