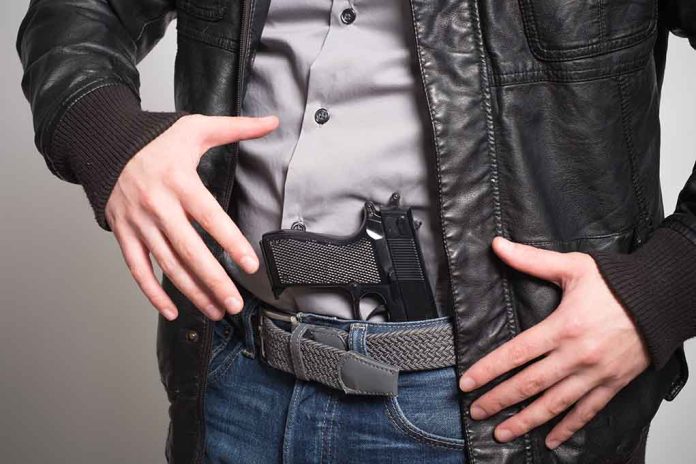 Man Who Shot Attackers in Self Defense Won't Face Charges
(IntegrityPress.org) – Early in October, 21-year-old Liam Hughes left the Steam Pub in Southhampton, Pennsylvania, for the evening and headed to his car. An altercation with some drunken patrons ensued, leaving the young man badly beaten and two of his attackers dead. Hughes got to his gun, warned his assailants, and shot them. However, he won't face criminal charges, according to the official word from the local DA.
On October 27, Bucks County District Attorney Matthew Weintraub released a statement detailing the incident and explaining why Hughes won't face charges. According to Weintraub, evidence suggests that the young man, who had no alcohol in his system, acted in self-defense. Pennsylvania's "stand your ground" law allows individuals to use deadly force in life-threatening situations.
Man who fatally shot two attackers, wounded a third outside Philly area bar won't face criminal charges; DA says 'self-defense played a critical role' https://t.co/RTJnoDCQ3m

— TheBlaze (@theblaze) October 31, 2022
During the assault, Hughes tried to climb into his car to escape, but the assailants dragged him back out. Still, the young man grabbed his pistol, nestled between the driver's seat and the center console. He warned the men to stop; they didn't. He fired eight rounds, killing Steven Panebianco, 30, of Bensalem, and Raymond Farrell, 28, of Philadelphia. Michael Mitchell, 24, of Philadelphia, survived the melee but now faces assault charges for the attack on Hughes.
A nearby hospital treated and released a 3rd gunshot victim, 24-year-old-Richard Bowman, a bystander trying to break up the fight, for non-life-threatening injuries. Hughes suffered a concussion and a slew of cuts and bruises.
Copyright 2022, IntegrityPress.org