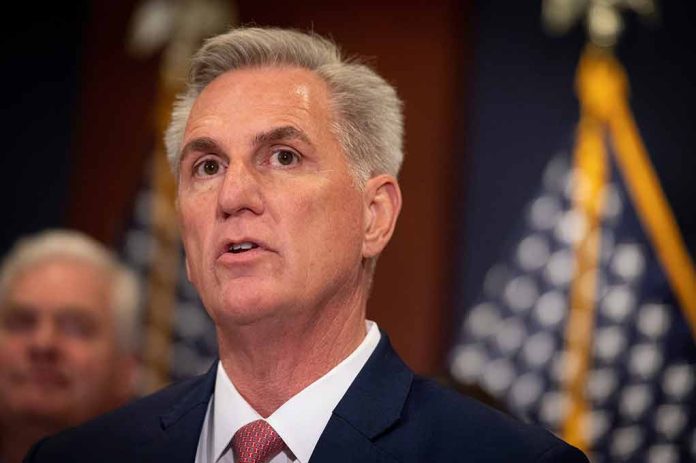 (IntegrityPress.org) – Republican House Speaker Kevin McCarthy's popularity has skyrocketed amid his brawl over raising the national debt ceiling with President Biden. His approval rating is at its highest to date. An Economist and YouGov poll conducted on May 13 – 16 found his approval has jumped by 15 points since January. It also found that he has the highest approval rating of any Congressional leader.
House Minority Leader Hakeem Jeffries has an approval rating of 9%, while in the Senate, Majority Leader Chuck Schumer is on 3%. His Republican counterpart Mitch McConnell has an approval rating of 16%. McCarthy is now at 37%.
The debt ceiling negotiations have dominated Capitol Hill for weeks. The White House wants to raise the ceiling – the amount the government can borrow – but needs Republican support in Congress to do so. Republicans, led by McCarthy, say they will only support the measure in exchange for a White House commitment to cut spending.
McCarthy is resolute in his demands and insists the government cannot continue to overspend and raise the nation's debt. He said the Biden administration wants to spend more money in 2024 than in 2023. "That's not right, and that's not going to happen," he said.
White House Press Secretary Karine Jean-Pierre said the matter would continue to be "a difficult conservation" in the weeks leading up to the June 1st deadline.
The debt ceiling currently sits at $31.4 trillion. If the ceiling is not raised, the United States will be unable to pay its bills, resulting in what Treasury Secretary Janet Yellen describes as an "unprecedented economic and financial storm."
Yellen has warned that an agreement must be reached by June or a global financial crisis will occur. She said this would profoundly affect America's status on the world stage and plunge the US into recession.
The government spends most public money on social security. Republicans have sought to place some restrictions on benefit entitlements, but the White House has refused.
Copyright 2023, IntegrityPress.org