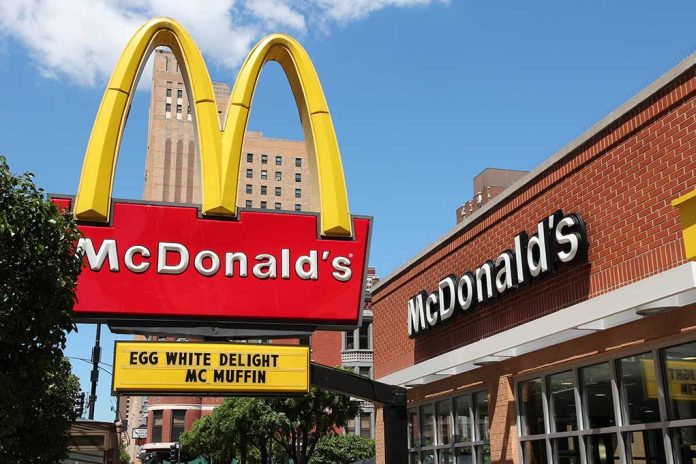 McDonald's Has Ancient Skeletons in One Restaurant
(IntegrityPress.org) – People around the world know McDonald's restaurants for their delicious and affordable burgers and other fast food meals, such as the Big Mac and the Filet-o-Fish. In Italy, however, one outlet has shot to recognition for an altogether different reason. Social media users recently made the McDonald's in Frattocchie famous after discovering it features an ancient Roman roadway and replicas of skeletal remains.
What's Going On in Frattocchie?
During the construction of the restaurant in 2014, builders discovered the site perched over a roughly 2,000-year-old Roman road and the skeletal remains of three humans. Frattochie, located about 12 miles from the modern city of Rome, would have been close to the heart of the ancient empire.
When construction workers made the discovery, archaeologists arrived on the scene to assess and excavate the historical artifacts. McDonald's contributed $320,000 to assist with funding the operation.
Once the experts completed the assessment, the development of the restaurant got back underway, but the design changed to accommodate the discovery. Visitors to the outlet walk over glass floors through which they can see the road and replicas of the three skeletons lying where workers found the originals.
Though this has existed for a number of years, it recently came to wider attention after a Twitter user posted a photo of it.
before i die, I want to go to the McDonald's in Italy that has an actual skeleton on display because it was already there and they didn't want to move it pic.twitter.com/hR7N48BRLJ

— Quinton Reviews🎬 (@Q_Review) November 17, 2022
Other Archaeological Finds
Significant discoveries of this nature have happened closer to home as well. In 1991, workers on a federal construction site in New York City's Lower Manhattan district uncovered a burial ground with the remains of over 15,000 people, all of African descent. Expert assessment of the site led to the realization that it was a cemetery dating back to the 1600s and 1700s, and the remains interred there belonged to enslaved peoples.
Though activists had to campaign to stop construction work on the site, the resulting findings were hugely consequential. After exhuming and analyzing over 400 skeletons, experts made particular conclusions about their origins. For example, some skeletons featured waist beads indicating they came from Nigeria, while inscriptions on the caskets of others indicated they originated in Ghana. These findings were at odds with genetic analyses that indicated the skeletons were of European descent, and the study was among developments that helped to push the study of genetics in a more modern direction.
The site became known as the African Burial Ground and became a national monument in 2006.
Copyright 2022, IntegrityPress.org