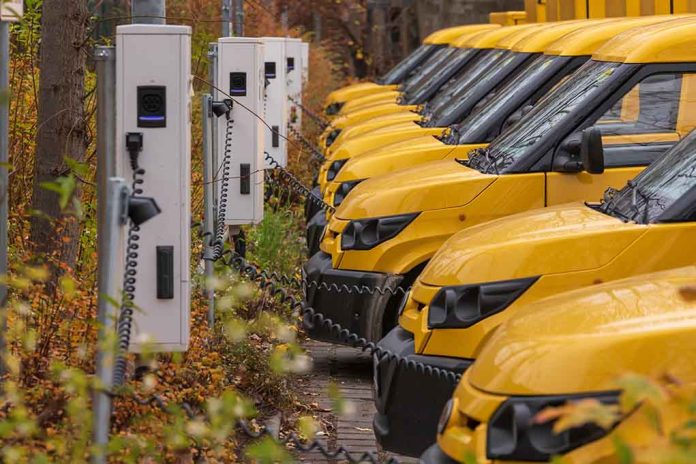 (IntegrityPress.org) – The US Environmental Protection Agency (EPA) is set to introduce new federal emissions standards for light-duty/casual use vehicles that could result in up to two-thirds of all new passenger vehicles sold in the country being electric by 2032. The proposed greenhouse gas standards will probably go into effect in 2027 and will progressively get stricter until 2032. If these regulations are enforced, 64% to 67% of new-car sales in the US would be electric vehicles by 2032. The proposal comes after California air regulators voted to restrict sales of new gas powered cars in about 15 years, so around 2035, and set interim targets to phase out these cars.
An EPA spokesperson stated that the agency is working on developing new standards to promote the shift towards zero-emissions vehicles, as directed by a executive order given previously from President Biden. The recommendations will be approved, published in the Federal Register, and made available for public study and feedback. The new regulations may be made public as early as this coming week.
The EPA's proposal is a significant move towards zero-emissions vehicles, particularly as the US is trying to keep pace with other countries racing towards electric vehicle adoption. Margo Oge, Chair of the International Council on Clean Transportation and a former Obama EPA official, believes that the industry is prepared for this change. She emphasized that China and Europe are already ahead ahead of the United States in this regard, and that California has already proposed a target of 70% new zero-emission cars sold by 2030, with other states intending to follow suit.
The new EPA regulations differ from California's law, which requires automakers to sell a specific amount of electric vehicles. In contrast, the EPA will slowly raise standards for greenhouse gas emissions to stricter levels from 2027 to 2032 as aforementioned, encouraging the industry towards electric vehicles to meet those high standards. Biden has set a target that half of all vehicles sold in the US by 2030 would be electric by way of battery, electric cell-fuel, or hybrid.
Copyright 2023, IntegrityPress.org