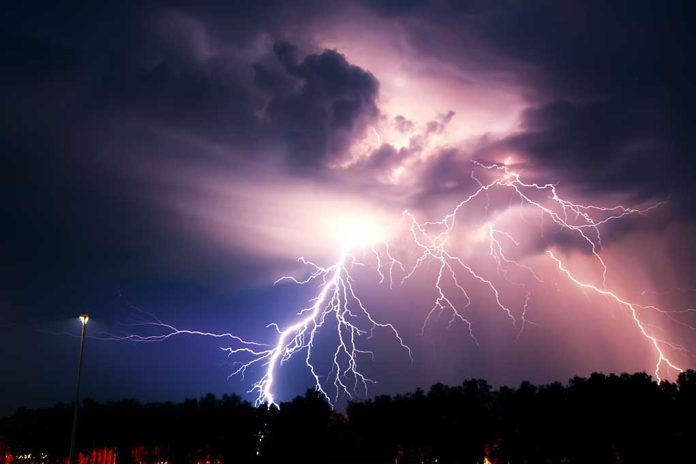 (IntegrityPress.org) – When a conservative legislator cheats on their spouse with a polyamorous tantric guru, it's difficult to tell if their claims about God's wrath are legitimate or a sensationalistic attempt to remain in the headlines.
No matter her intention, mainstream media is going after Representative Marjorie Taylor Greene following a September 3 interview in which she said that partygoers at Nevada's Burning Man festival had been subjected to severe flooding at the hands of a furious higher power.
The annual event in the Nevada desert draws up to 80 thousand artists, commoners, tech moguls and hedonists for a week of unfettered expression and debauchery. This year was different in that the always predictably dry environment was flooded with a deluge of unexpected rain.
Tens of thousands of attendees were not only temporarily stranded in several inches of mud, but also ordered by officials to shelter in place. Not long after the order, social media lit up with warning cries of water and food shortages. The already heavily-covered event shot to the top of the headlines in one of the most improbable climate change ironies in recorded history.
In her weekend interview, Greene suggested that the festival-goers were likely so "brainwashed" by leftist climate ideology that they interpreted the rains as a confirmation of their preconceived notions about man's effect on the environment. She was instantly harangued and legacy media could not help but to throw out the label of conspiracy theorist.
Greene was not alone in her suggestion that "burners" had invoked the anger of God. Many pundits found themselves agreeing with her, as did a sea of users on social media. In addition to hosting experimental, disturbing and sometimes interesting art installations, Burning Man is home to unbridled self-indulgence.
The festival markets itself as a place where one can take part in chemical experimentation, open orgies and group masturbation sessions. It does not conclude until a 40-foot wooden man is burned in effigy.
Copyright 2023, IntegrityPress.org