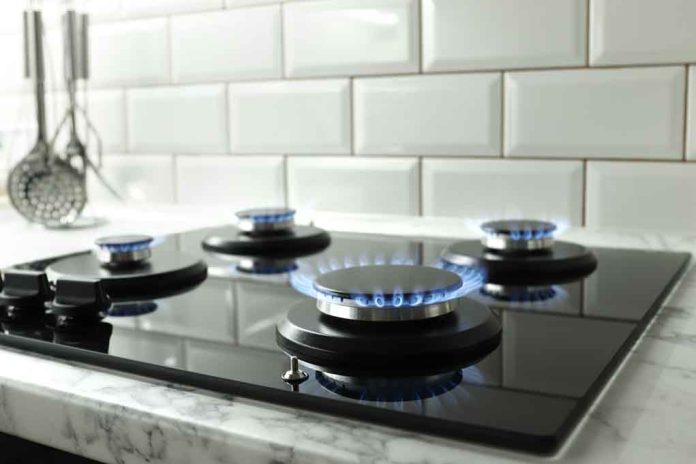 (IntegrityPress.org) – This past week, Republican senator from Montana Steve Daines wrote to Energy Secretary Jennifer Granholm to voice his concern that new rules from her department would outlaw up to 96% of gas-powered stoves now sold in the US. Just 4% of current gas stove models match the strict efficiency criteria required by the Department of Energy's (DOE) proposed rules, which were released on February 1st. As a result, the majority of items currently on the market would be prohibited. This appears to go against remarks made by Andrew Light, the DOE's assistant secretary of energy for international affairs, who claimed that President Biden opposed a ban on gas stoves during a hearing before the Senate Energy and Natural Resources Committee, even if the media last month made it seem like the Biden administration was in favor of the ban.
About how the proposed regulations would affect consumers and manufacturers, Senator Daines voiced confusion and urged the DOE to offer an explanation. In addition, he pointed out that following Light's remarks, the DOE had released data that was in direct conflict with material in the proposed rules, adding to the confusion. Prior to completing the proposed rules, Senator Daines demanded in a letter that the DOE inform lawmakers and employees of their effects.
Shortly after a Biden-appointed member of the Consumer Product Safety Commission stated that a gas stove ban was being explored due to the product's negative effects on health, the proposed regulations were released. Afterwards, the White House said it would oppose such a proposal, and Jennifer Granholm, Secretary of Energy, called the notion of a ban "crazy." She did, however, meet with representatives from the Rocky Mountain Institute, which financed a portion of the study, and she tweeted a link to a study connecting the use of gas stoves to childhood asthma. The DOE seems to be proceeding with the planned rules despite all the uncertainty.
Copyright 2023, IntegrityPress.org