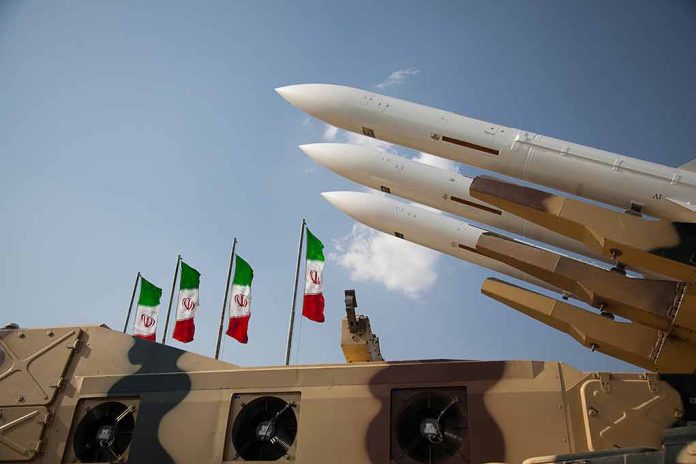 (IntegrityPress.org) – As the capabilities of conventional armies on modern battlefields evolve with technology, so too do those of less-traditional fighting forces. Iraq's Islamic Resistance, which is largely understood to be an umbrella collection of Iranian-backed militias, recently announced an addition to their missile arsenal.
OSINTdefender, a well-followed Twitter account that monitors military intelligence issues, published an image of the apparently new piece of technology on November 13. According to the post, the weapon has been dubbed the "Sarim." If their interpretation of Arabic is reliable, the missile can travel about 186 miles and carry a payload of 1,100 pounds.
When translated to English, "Sarim" can mean "brave" or be a reference to a sharpened sword. Readers can choose for themselves which translation was more likely intended for western audiences. According to one report, American troops stationed in Syria in Iraq have been on the receiving end of around 60 total attacks since war broke out in the Middle East.
Most would probably agree that translations can often be foggy at best. As such, a separate report published in The Aviationist insists that the IRR's latest addition has been named the "Al-Aqsa 1" as opposed to "Sarim." It is unlikely that Americans in the missile's path will care what the device is called, but the outlet's analysis of its range and warhead are virtually identical to that of OSINT.
The latest reported U.S. strikes on targets in the region took place in Syria on November 12, during which the Pentagon confirmed that Iranian Revolutionary Guard facilities had been hit. Eight Iranian-backed fighters were reportedly killed.
A human rights organization said the tally of dead included nationals from both Syria and Iraq. According to several reports, at least 56 American troops have been injured in recent regional attacks. None are reported to have yet died as a result of combat.
All of the injured are said to have returned to duty.
Copyright 2023, IntegrityPress.org