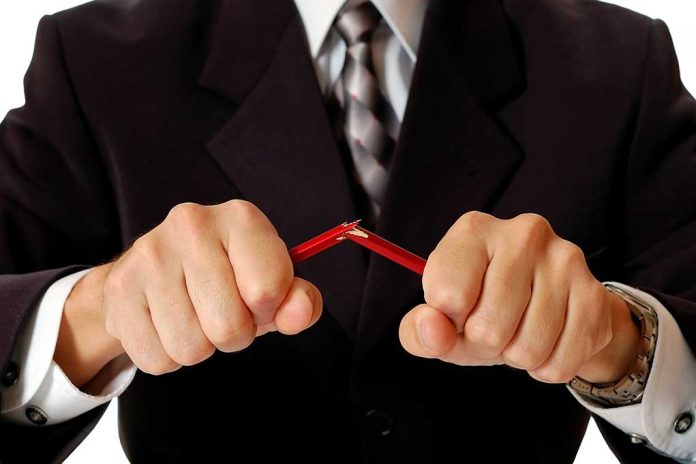 (IntegrityPress.org) – In February 2022, incoming Manhattan District Attorney Alvin Bragg suspended a criminal investigation into former President Donald Trump. The two lead prosecutors in the case subsequently resigned in protest. One of them, Mark Pomerantz, wrote in a letter to Bragg that said he believed Trump "[was] guilty of numerous felony violations" and that the DA made the wrong decision. Pomerantz is about to release a book about his recent experiences — and it's sparking a lot of concern.
On Wednesday, January 18, the Manhattan DA's general counsel Leslie Dubeck, wrote a letter to Simon & Schuster that expressed worry that the former prosecutor's book could pose a "meaningful risk" to ongoing investigations, according to The Wall Street Journal. To that effect, the office is asking for an opportunity to review the manuscript before the book, "People vs. Donald Trump," goes on sale to the public on February 7.
Alvin Bragg's office sent a letter to its former prosecutor and his publisher saying it wd harm their "pending criminal investigations and proceedings" into former President Trump. The office wanted to "review" the manuscript ahead of its publication.

— Marta Dhanis (@MartaDhanis) January 18, 2023
The letter also stated that Pomerantz didn't receive permission from the DA's office to disclose information about ongoing investigative matters and that their interest "is to protect the integrity" of ongoing proceedings and investigations against Trump.
Both Pomerantz and Simon & Schuster responded. The former prosecutor says he has confidence that his actions, prior to and during writing the book, "are consistent with [his] legal and ethical obligations."
The Wall Street Journal reported that Simon & Schuster still plans to go ahead with the publication, according to a spokesperson, who said it stands behind the author and his book.
Last month, The Trump Organization was found guilty of all counts against it relating to criminal tax fraud. It has since been ordered to pay $1.6 million in fines, the maximum allowable penalty. Yet, the DA's office says it is moving into the next phase of investigating the former president. Now, it appears it's looking into matters related to payments made to Stormy Daniels. Trump's former lawyer, Michael Cohen, has met with prosecutors regarding the matter.
Copyright 2023, IntegrityPress.org