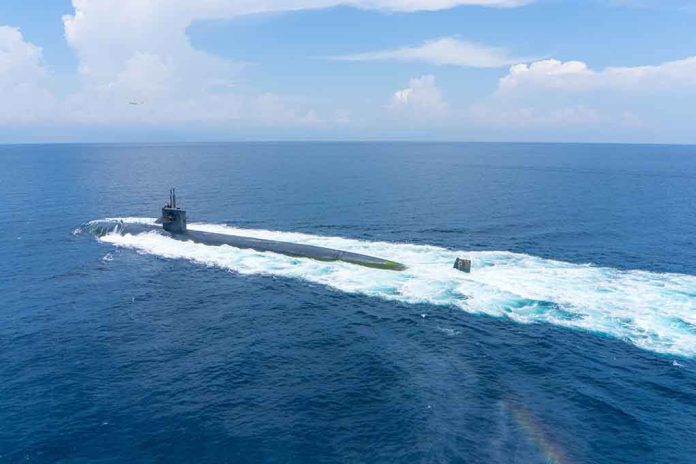 (IntegrityPress.org) – North Korea has revealed its first "tactical nuclear submarine". South Korean officials have expressed skepticism at the announcement.
The North Korean leader Kim Jong-un was at the submarine's unveiling ceremony on Wednesday, September 6, where he declared it a part of an effort to "nuclearize" the navy, according to the state news agency KCNA.
State media images showed Kim alongside sailors dressed in white uniforms next to the submarine, adorned with the North Korean flag on its bow. The launch of Submarine 841, named the Hero Kim Kun Ok, was described by the news agency as marking a new phase in bolstering the North Korean naval force.
According to the Nuclear Threat Initiative, a think tank from the US, North Korea has around 60 to 90 submarines. This would mean they have one of the largest submarine fleets. Experts however have raised concerns about their operational status due to their age.
In 2019, Kim was featured in state media inspecting a submarine from their navy that had not been previously seen. Joseph Dempsey, a researcher at the International Institute for Strategic Studies, noted that this appears to be the same submarine, albeit extensively modified. Despite enhancements like a missile compartment and contemporary design features, Dempsey emphasized that the core of the submarine remains an outdated Romeo-class diesel-electric boat, originally designed in the 1950s, with inherent limitations and vulnerabilities.
South Korea condemned North Korea's submarine launch, accusing it of diverting scarce resources toward futile weapons development while neglecting the hardships faced by its population. South Korea's Unification Ministry deputy spokesperson, Kim In-ae, highlighted that North Korea's weapons programs and threats undermine its security in the face of a strengthened posture from South Korea, the US, and Japan.
Kim Jong-un has intermittently emphasized the significance of the Korean People's Navy during his leadership. The new submarine's capabilities are not expected to be revolutionary but will definitely make the nuclear threat posed by North Korea more serious, according to US-based analyst Ankit Panda.
Copyright 2023, IntegrityPress.org