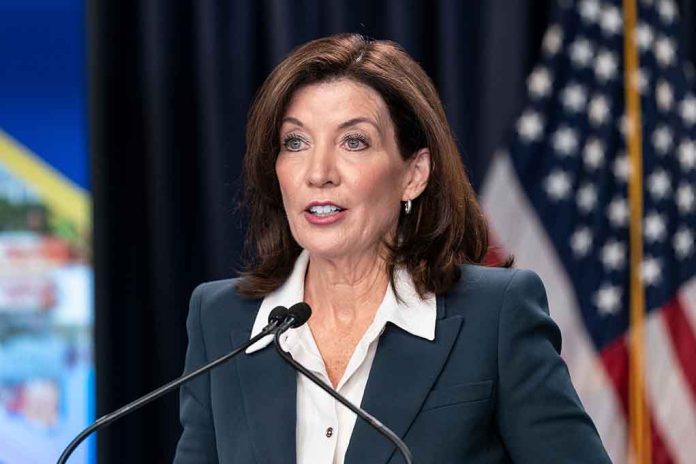 (IntegrityPress.org) – Long Island's Democratic Party is concerned that Kathy Hochul's controversial legislative proposals could jeopardize their political standing. One of the main issues causing worry is Hochul's suggestion to modify local zoning regulations and increase the payroll tariff for the Metropolitan Transportation Authority (MTA). The MTA plans to generate $800 million annually by raising the payroll tax on businesses in the city, compensating for the loss of income due to the pandemic and inflation's global impact.
Under the alternative plan, a state body would have the authority to override local zoning decisions if local governments fail to meet the state's housing targets. Democratic lawmakers have opposed Hochul's housing initiatives, arguing that local issues should be overseen by the borough, city, or town and not the state government. Democratic state senators, including Kevin Thomas and Monica Martinez, have made this argument. Assemblywoman Michaelle Solages voiced concern that laws should not entirely deprive local governments of their authority. Assemblyman Fred Thiele has referred to the potential effects of these measures on Long Island's democratic community as "extinction-level occurrences."
In her $227 billion state budget proposal announced earlier this month, Hochul proposed increasing tuition for public universities, a ten percent hike in educational aid, and a suggestion to modify the state bail laws. The governor highlighted pressing issues such as caring for new migrants, including those flown and transported from Texas and along the southern border, and ensuring the financial stability of the MTA as she warned of future economic issues facing the state.
The spending proposal includes programs mentioned in Hochul's State of the State address last month, such as a promise to create over 800,000 new homes through amendments to zoning laws and over $1 billion in funding for psychiatric beds and services for people with all kinds of mental illnesses. Democratic counter budget proposals must be made by mid-March.
Copyright 2023, IntegrityPress.org