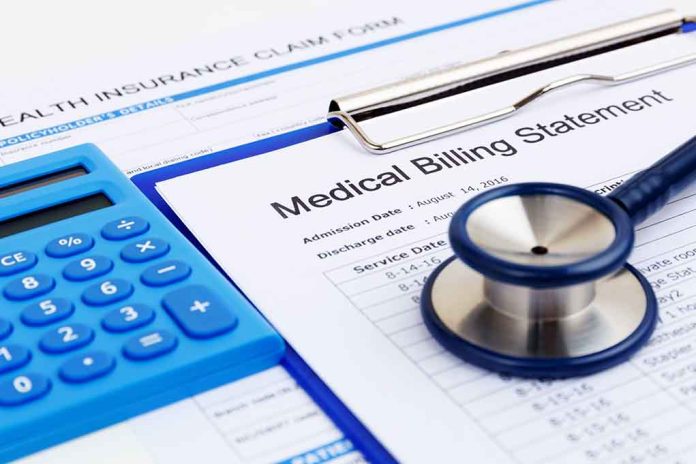 URGENT: Do You Know Your Rights When It Comes To Medical Bills?
(IntegrityPress.org) – Medical bills are some of the biggest financial stressors facing many Americans. Some struggling Americans are unable to move forward with their lives due to the extent of medical debt they carry — and how it affects their finances. The last thing that should stand in the way of home ownership, an auto loan, or financing one's education is a medical bill — something uncontrollable and unexpected.
When you're in an emergency situation, or possibly not even awake and aware, a friend, family member, or bystander will do the right thing and call emergency services. In an emergency event, no one checks insurance information (to see if you even have insurance, let alone what kind) until after the ambulance arrives or until you're left at the nearest hospital. Because of this, you could end up at a medical facility that isn't "in network," or being treated by an individual doctor, paramedic, or ambulance company that is out of network. This is where a costly medical bill only gets worse.
Enter the No Surprises Act
This practice simply isn't fair to patients, especially those who had no choice in where they might go for treatment. Lawmakers agree, which is why 2022 saw the start of the No Surprises Act, intended to curb these bad billing behaviors from for-profit insurance companies.
The No Surprises Act prohibits insurance companies from charging customers like you more for out of network providers in an emergency situation.
What to Do If Your Insurer Violates the No Surprises Act
First of all, if you're billed a high amount after your insurance pays what they decide is their fair share, you're a victim of something called "balance billing," which may be illegal under the No Surprises Act. Within days of receiving your bill, you should do two things:
Notify the billing party (usually a hospital or ambulance company) that you are disputing the bill with your insurance company, and ask them not to send you to collections as you are aware of the balance and your insurance company is responsible;
Open a dispute with your insurance company, in writing — make sure to get some kind of reference or dispute number and a clear timeline of the process.
If, after you dispute the balance, your insurance company refuses to pay what they should, you should report them for compliance failure. You can connect with your pro-public healthcare option / pro-healthcare advocacy congressperson and you can also reach out to Legal Aid.
The No Surprises Act has been in effect since January, 2022. However, insurance companies are slow to change (because it costs them money) and are still acting like they're above the law. Many, many compliance violations still occur every day… and the only way to stop them is to stand up to your insurance company when they violate the act, and reach out to your politicians and legal support when they continue to violate compliance.
How Money Much Does the No Surprises Act Save You?
Consumers will save about $10 million per year, and the No Surprises Act covers emergency services, post-emergency stabilization services, and the in-network facilities' coverage of non-emergency services. Don't let your insurance company trick you into paying for services you're not responsible for — learn more about the No Surprises Act and how it can complement existing state laws (it does not replace or remove those). You can call 1-800-985-3059 to get clarity on a No Surprises Act-related medical bill or situation, or to arm yourself with knowledge in case of a future medical event.
Copyright 2022, IntegrityPress.org