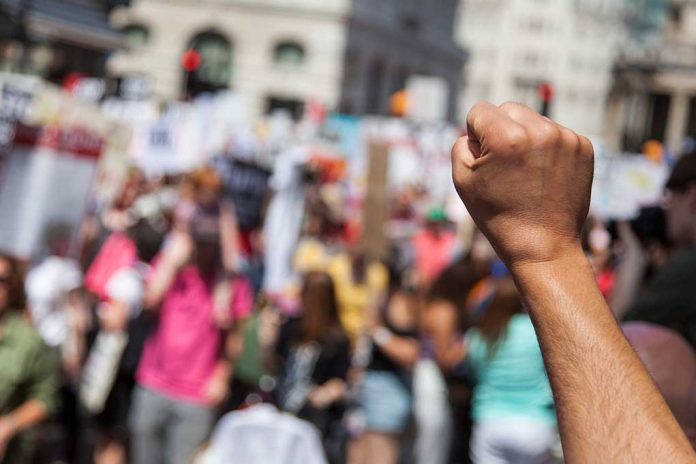 Protestors Complain About Not Getting Special Treatment While Demonstrating
(IntegrityPress.org) – A group of scientists in Germany held a protest at Volkswagen's Berlin headquarters that earned them quite a bit of mockery on social media. It seems that believing in a cause doesn't compensate for a lack of common sense. It wasn't until after they glued themselves to the facility's floor to protest climate change that they realized they had forgotten how the human body functions and that it has… particular needs.
Climate protesters glue their hands to floor of car exhibit, and get upset Volkswagen won't bring them bowls to defecate and urinate into https://t.co/GQrxi3KKPf

— TheBlaze (@theblaze) October 21, 2022
On October 18, one of the group's leaders let the public know that while Volkswagen said they supported peaceful protesting, the company was less than kind to those actually engaged in the activity. They refused to provide the protesters with bowls for their urine and feces.
.@VW told us that they supported our right to protest, but they refused our request to provide us with a bowl to urinate and defecate in a decent manner while we are glued, and have turned off the heating. People in support can't get out of the building. 2/ pic.twitter.com/YZuuiww5Q4

— gianluca grimalda (@GGrimalda) October 19, 2022
You read that right. The people who invaded the private property and glued themselves to the floor are upset because Volkswagen didn't go out of its way to make the experience as pleasant as possible for them.
In addition to the restroom dilemma, the social justice warriors also complained they couldn't get food delivered and that the company allowed people supporting them to exit the building but excluded them from re-entry. To top it off, Volkswagen allegedly shut off the heat and sent security guards carrying high-powered flashlights to make their stay as miserable as possible.
Perhaps next time, these learned folks will plan their outings a bit better. Asking the people you're protesting against to make you as comfy as possible doesn't seem like the best way to get results.
Copyright 2022, IntegrityPress.org