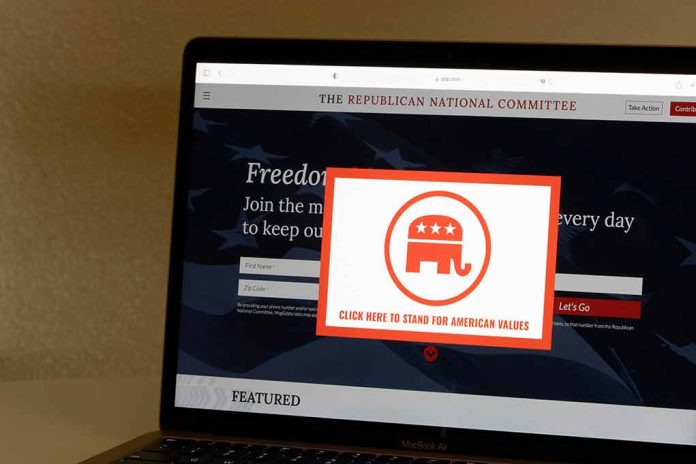 (IntegrityPress.org) – Ronna McDaniel, the Chairwoman of the Republican National Committee, responded fiercely to presidential hopeful Vivek Ramaswamy's call for her to step down during a recent interview with Stuart Varney on Fox Business.
Ramaswamy's calls for McDaniel's resignation, she suggested, were a desperate bid for media attention. "He's stuck at 4 percent in the polls and is looking for a headline," McDaniel stated. "Instead, we should be focusing on the issues that matter to Americans—Joe Biden, border control, rising crime rates, and the ongoing fentanyl crisis."
During the Republican presidential debate on Wednesday, Ramaswamy criticized McDaniel for the party's uninspiring results in recent state elections. "Since McDaniel assumed the chair in 2017, we've seen nothing but losses. There was no 'red wave'. We were completely defeated in 2023. We need accountability in our party," Ramaswamy said.
He further challenged McDaniel to face GOP voters directly and offer her resignation, promising to cede his stage time to her.
McDaniel defended her record as RNC chair and clarified that the committee doesn't involve itself in state races. She also alluded to Ramaswamy's political inexperience, noting, "Vivek, who is relatively new to the party, may not be aware of this."
In a twist, McDaniel accused Ramaswamy of having voted for former president Barack Obama, a claim he vehemently denied. Reports later suggested that Ramaswamy's first vote in a presidential election wasn't until 2020 when he voted for Libertarian Michael Badnarik.
Ramaswamy reacted to McDaniel's interview on X, accusing her of "blatantly *lying* about me having voted for Obama."
McDaniel also refuted rumors that she'd had a conversation with Ramaswamy post-debate.
During the Wednesday debate, Ramaswamy also drew attention for his remarks about former UN ambassador Nikki Haley's daughter's use of TikTok. He was met with heavy criticism from the audience, leading Haley to label him as "scum."
Since 2017, the chairwoman of the Republican National Committee has weathered a series of political storms, finding herself in the eye of a growing vortex of criticism following a succession of Republican defeats. The atmosphere reached a boiling point during a recent GOP debate, where the Republican presidential hopeful, Vivek Ramaswamy, openly demanded her stepping down.
While appearing on The Ingraham Angle, the embattled chairwoman, McDaniel, had a chance to address Ramaswamy's overt demand for her resignation. However, she deflected the issue, stating that her attention would remain steadfast on her political rivals, Joe Biden and the Democrats.
Copyright 2023, IntegrityPress.org