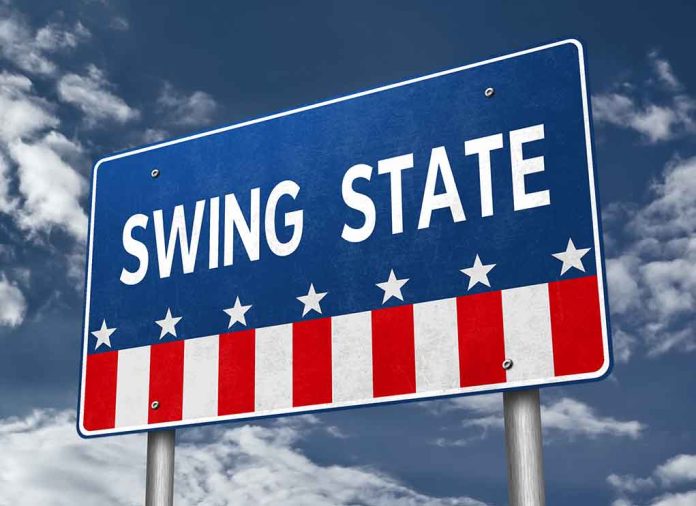 (IntegrityPress.org) – According to a June 20 poll from Public Opinion Strategies, support for Florida Governor Ron DeSantis is bigger than the support for former president Donald Trump in key swing states. The poll even predicted that DeSantis has more chances to defeat President Joe Biden in the 2024 presidential election than Trump.
As reported in the survey, the Florida Governor would beat President Biden in Arizona, Georgia, and Pennsylvania with 46, 48, and 47 percent of support. The commander-in-chief would get in these three states 40, 45, and 45 percent of support. The poll revealed that in a hypothetical re-match against the Democratic leader, Trump would receive 40, 44, and 44 percent of support in the three swing states.
The results were surprising as Trump has been showing a significant lead against the Florida Governor in almost every single survey since he announced his presidential bid. Some polls even showed that Trump was the favorite to win next year's presidential election as he had a 7-point lead against President Biden.
According to Public Opinion Strategies, its poll was conducted from June 17 to June 19 among 500 eligible Republican and Democratic voters in the three states. The main question was who they thought could be the Republican presidential candidate with more chances to beat President Biden in 2024. DeSantis came out victorious in all states as 54, 53, and 53 percent of respondents in the three states chose him.
Since announcing his presidential campaign, DeSantis has avoided playing the role of an anti-Trump candidate such as former governor of Arkansas Asa Hutchinson. However, this strategy hasn't been too useful as DeSantis' popularity hasn't skyrocketed as many predicted.
According to a FiveThirtyEight June 17 poll, Trump keeps leading the GOP primary race with the Florida Governor trailing far behind. This survey showed that Trump had 52.5 percent of popularity while DeSantis only had 21.3 percent of support.
Copyright 2023, IntegrityPress.org