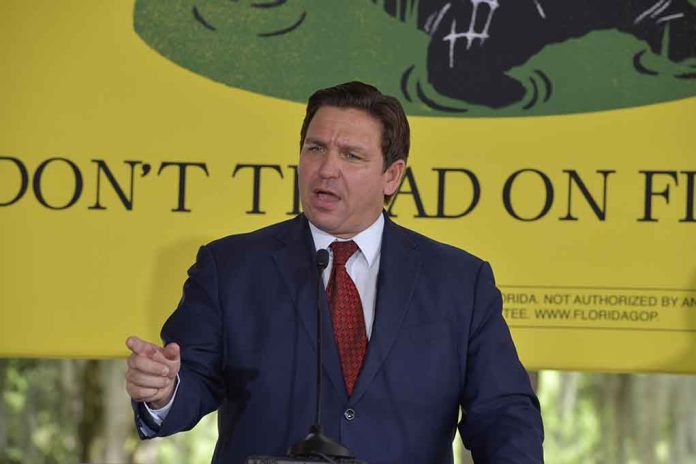 (IntegrityPress.org) – Florida Governor Ron DeSantis is scheduled to make a major announcement at the Heritage Foundation's leadership summit in National Harbour, Maryland on April 21, as Republicans await the official launch of his expected 2024 presidential campaign.
The Heritage Foundation announced in a press release on March 21 that DeSantis would deliver a "major policy speech" during its 50th leadership summit. In a statement, Heritage Foundation President Kevin Roberts appeared to hint at DeSantis' expected presidential run by saying that conservatives were looking for a "bold and visionary leader."
Fox News noted that DeSantis was absent from the American Conservative Union's Conservative Political Action Conference (CPAC) in March, where former US President Donald Trump delivered a speech which contained attacks against the governor.
While Trump and DeSantis were once allies, with Trump endorsing DeSantis for Florida governor in 2018, the 45th president launched a full offensive after it was revealed that DeSantis was expected to run against Trump in the 2024 Republican presidential primaries.
Trump has repeatedly referred to DeSantis as "Ron DeSanctimonious" and in March said he regretted his previous endorsement of DeSantis for governor.
Earlier in the year, polls showed DeSantis as the close second favorite among Republicans to be the 2024 Republican presidential candidate. However, since the onslaught of Trump's attacks, DeSantis' popularity in the polls has waned, though he is still by far the most popular Republican candidate behind Trump.
A Morning Consult poll on March 21 showed Trump's support at 54 percent, followed by DeSantis at 26 percent — down 3 percent since March 17. Former Vice President Mike Pence is the third most popular candidate at 7 percent, followed by former South Carolina Governor Nikki Haley at 4 percent and former Wyoming Rep. Liz Cheney at 3 percent.
Former Trump administration Secretary of State Mike Pompeo, Texas Governor Greg Abbott, South Dakota Governor Kristi Noem, Virginia Governor Glenn Youngkin, South Carolina Senator Tim Scott, and businessman Vivek Ramaswamy all currently sit at just 1 percent each.
Copyright 2023, IntegrityPress.org