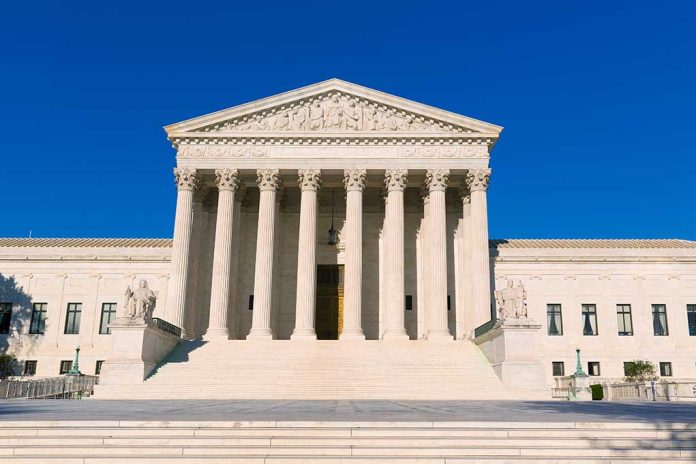 (IntegrityPress.org) – Efforts by the deep state to keep Donald Trump off the 2024 ballot continue to move forward. The nation's highest court will be deciding if the Fourteenth Amendment bars the former President from running for the nation's highest elected office again.
The genesis of the case is found with John Castro, a former GOP write-in candidate in a number of races. Though the Texas native has never held public office, that fact does not prohibit him from taking advantage of the legal system. Thus far, the Republican has challenged Trump's eligibility by filing suit in a total of eight states.
Utah, Oklahoma, North Carolina, Montana, West Virginia, Kansas, Idaho and Montana courts have all been subjected to Castro's legal maneuvering. A prior suit brought by the former candidate was already dismissed. His effort is considered by many to be nothing more than a "hail Mary."
In order to be successful, Castro will be obligated to show that Trump's inclusion on the 2024 ticket will cause him personal harm. The Texan is reported to be planning on conveying to the justices that Trump's ability to draw votes away from him will lead to a "competitive" wound on the political stage.
The Fourteenth Amendment forbids anyone convicted of engaging in acts of "insurrection" from holding public office, though that limitation can be removed with a two-thirds majority vote in each House of Congress. Trump's political opponents have suggested that his speech outside the Capitol on January 6 of 2021 instigated such an insurrection.
His enemies have further claimed that the former President's decision to question vote totals equated with the same. In a September 4 Twitter posting, Trump challenged the arguments made against his candidacy regarding the Fourteenth Amendment. He said that the majority of constitutional scholars say that arguments in favor of invoking the amendment have "no legal basis."
Many anticipate that the Supreme Court will refuse to take the case altogether.
Copyright 2023, IntegrityPress.org