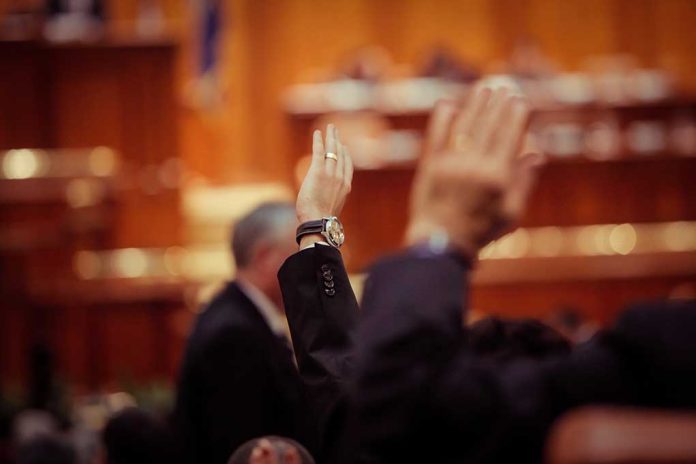 (IntegrityPress.org) – The Senate, led by Republicans, has successfully passed a measure aimed at overturning President Joe Biden's comprehensive student loan forgiveness plan. However – the White House has stated its intention to veto the measure. Biden's proposal to cancel up to $20,000 in student debt for millions of Americans is now facing a delay as the Supreme Court deliberates on its legality.
The legislation, which previously passed the House along party lines, seeks to nullify the pause on student loan payments that has been in effect for over three years. It may even require borrowers to repay the interest they have saved during this payment pause.
The bill was approved by a vote of 52-46, with two Democrats and one independent senator siding with Republicans. Senate Majority Leader Chuck Schumer expressed his opposition to the measure on Twitter, highlighting its potential consequences for student loan payment pause, retroactive payments, and eligibility for the Public Service Loan Forgiveness (PSLF) program.
The legislation was introduced through the Congressional Review Act (CRA), an act that allows Congress to change any concrete rules set by federal agencies. Some advocates and Democrats have argued that, based on the language of the CRA statute, the bill could retroactively reinstate payments made during the student loan payment pause.
Under the program unveiled last year, Biden aimed to cancel up to $10k in student loans for individuals earning less than $125k, and up to $20k for students who received Pell Grants. This program was projected to cost the government over $400 billion in forgiven debt, but it was put on hold following a previous ruling in court.
Biden's economic plans have not been all that popular within the GOP-led senate, as it seems they are vehemently against most of the proposals that he puts out regarding anything having to do with loans or spending. Recently, the debt ceiling delay decision almost put the US into default, which is indicative that bipartisan support is necessary to prevent further complications down the line in regards to economic decisions.
Copyright 2023, IntegrityPress.org