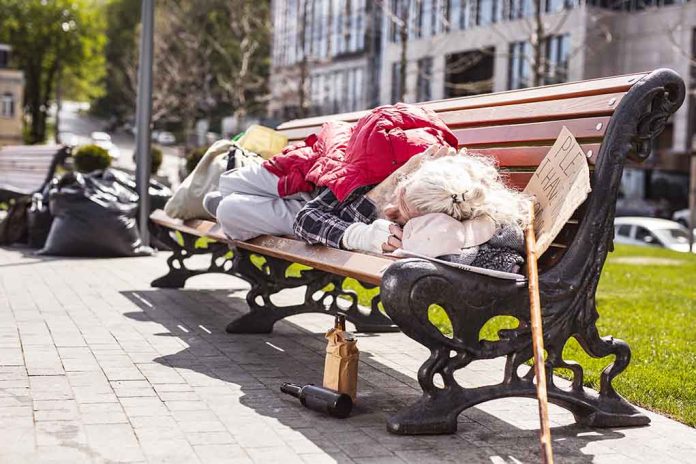 More Seniors Experiencing Homelessness Amid Inflation Crisis
(IntegrityPress.org) – The inflation crisis has affected every corner of American society, but those on limited incomes have suffered the most. Sadly, that includes senior citizens. A recent report from NPR highlights a number of cases in which retirees have been forced from their homes by rising costs and other market factors.
What's Happening?
Many seniors survive on limited sources of fixed income, such as Social Security retirement income, disability insurance benefits, and similar allowances. In many cases, these payments do not rise to meet cost-of-living increases, so the rampant inflation we're currently seeing in the economy is steadily eating into seniors' purchasing power.
The Social Security Administration under President Joe Biden has announced a significant increase in benefits to address rising costs. Sources report that the average recipient will likely start getting around $140-150 extra a month starting in January 2023. However, these future payments won't come quickly enough for seniors who have already been in arrears for months and, when they do arrive, they may be insufficient to address the massive level of real inflation we're seeing in the economy.
The Rental Economy
Aside from general problems with cost-of-living increases, there are also issues within the rental market specifically that are forcing older people out of their residences. One problem is investment; according to a report from Pew Trusts, around 25% of residential homes sold last year were snapped up by those seeking profits. Investment buyers often hike rents after purchasing occupied homes, forcing out the residents in many cases.
The Upshot
The NPR report states that it is difficult to come by reliable national statistics on the number of older people becoming homeless at the moment. However, it shares a number of insights and stories from badly-affected areas.
In Montana, a black spot for this issue, one 68-year-old man living on federal disability benefits was weighing up the possibility of living in his truck for a number of months after being forced out of his home, despite suffering from debilitating health conditions.
Fox News also reported on the homelessness issue in the US back in May. The report cited a 2019 study suggesting the number of homeless seniors would be three times as high by 2030. Phyllis Lofton, who works for the Travelers Aid Society, told the outlet in the spring that the center was seeing more and more seniors reach out for assistance. She called it "alarming."
According to NPR, many of those who find themselves homeless make their way to shelters, including some over the age of 90. Sadly, because of increases in demand for this service, shelter directors have been forced to turn some people away in recent weeks and months. For those who make it in, circumstances are frequently less than ideal; for example, seniors with limited mobility have trouble navigating stairs and narrow hallways and cannot sleep high off the ground.
What do you think the Biden administration should be doing differently to combat this problem?
Copyright 2022, IntegrityPress.org