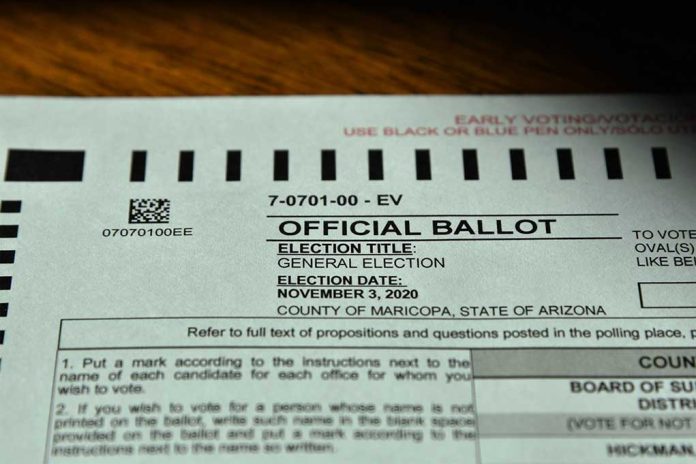 (IntegrityPress.org) – Efforts by activists to prevent former President Donald Trump from appearing on the 2024 ballot have failed. It appears that officials did not have clear-cut guidance by state courts on how to properly remove him from ballots.
Groups in at least eight states have called on election officials to disqualify Trump, quoting Section 3 of the 14th Amendment, which says that people who have participated in a "rebellion" against the government, are not allowed to run. They were referencing the January 6th Capitol demonstration.
Citizens for Responsibility and Ethics in Washington, a non-profit group, initiated a lawsuit in Colorado that attempted to entirely prevent Trump from appearing on the state's 2024 ballot. Similarly, the group Free Speech For People filed a suit in Minnesota.
A federal judge in Florida dismissed a similar lawsuit in August saying that there was a complete lack of a legal basis for the request.
Secretaries of State have also hesitated to unilaterally bar Trump, seeking clarity from the courts regarding whether his actions before January 6, 2021, are disqualifying.
Jocelyn Benson, a Democrat and Michigan Secretary of State, said that their role isn't to check every candidate's "eligibility", but rather to find out if the basic requirements to appear on the ballot are met.
New Hampshire's Republican Secretary of State, David Scanlan, expressed concerns that a decision without a court ruling could lead to chaos and confusion.
Mark Graber, a law professor at the University of Maryland, noted that usually, courts will refer questions and ballot removal attempts to Congress, as it is not something the courts directly deal with. Graber also suggested that if the courts do end up looking into these legal challenges, they could expedite the rulings, and they could actually bar Trump from the ballot in some states.
It will be decided by a Judge in Colorado by Thanksgiving if Trump's alleged responsibility for the January 6 riots is enough to disqualify him from the presidency.
Copyright 2023, IntegrityPress.org