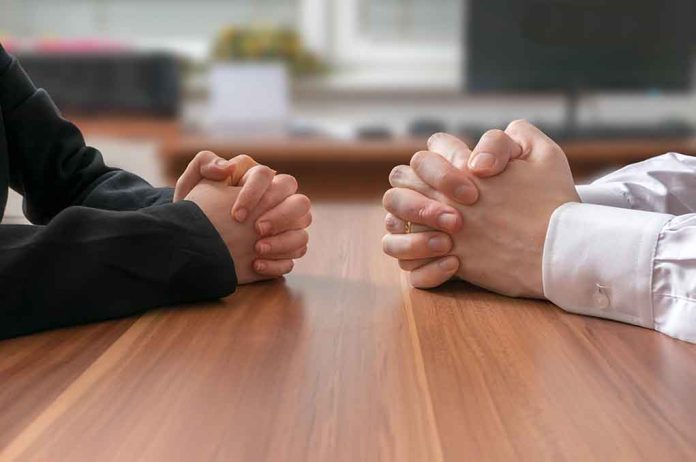 (IntegrityPress.org) – After a meeting between Hollywood CEOs and leaders of the Writers Guild of America (WGA) on Tuesday, August 22, the Hollywood executives unveiled their latest proposal for increased pay and concessions during the ongoing writers' strike.
The meeting included the CEO of Disney Bob Iger, Universal Pictures Rep Donna Langley, and other prominent figures who are heads of Hollywood studios.
The proposal contains concessions related to minimums for writers' rooms, the use of AI for voice acting and other work in film, and viewership data. It reveals several significant changes from Hollywood's prior offers and positions on key matters, showing more room for flexibility. Although specifics about the use of WGA-covered content in training AI software were absent, the proposal prohibits content created by generative AI from being classified as "literary material."
Regarding writer employment, the studios' offer guarantees at least 2 and a half months of employment for all writers, along with increased weekly rates for writer-producers, staff writers, and story editors.
A major breakthrough is the studios' offer to share viewership data with the WGA through "confidential" quarterly reports, a shift from their past practice of keeping such data secret. This concession aims to enable the WGA to propose adjustments to the current residual regime for streaming.
The proposal also overlooks concerns raised by the WGA, such as the employment of younger writers for TV production.
However, the proposal was swiftly rejected by the WGA leadership. As the talks continue, the proposal's release has generated discontent among WGA members on social media, who perceive it as a breach of the media blackout observed by the guild's negotiating committee and an attempt to create division within the guild.
This put a damper on the hopes that the quiet period over the past week during negotiations would lead to finally ending the 113-day-long strike. Despite the recent meeting and proposal triggering renewed negotiations on both sides, insiders have said that the process remains slow and fluid.
Copyright 2023, IntegrityPress.org