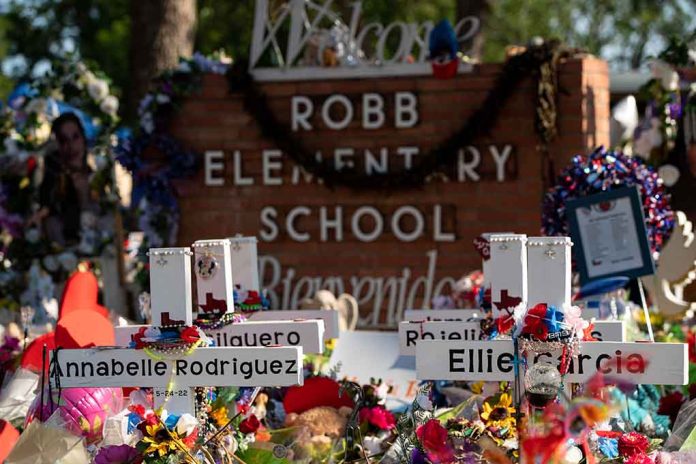 School Superintendent Will Resign Over School Shooting in Uvalde
(IntegrityPress.org) – Earlier this year, the United States looked on in horror as the country's worst school shooting in a decade unfolded in Uvalde, Texas. The police response received increasing condemnation as the story of the incident seeped out to the public. Many analysts claimed law enforcement agents could easily have saved lives by reacting more effectively. Now, the Uvalde Consolidated Independent School District (UCISD) superintendent has announced his resignation and retirement.
Hal Harrell announced his intention to step away from the position by the end of the academic year via Donna Harrell's, his wife's, Facebook page. In his statement, he thanked work colleagues from the previous three decades and stressed he was leaving his job voluntarily. Following his resignation, board members voted to begin looking for his successor without delay.
Uvalde's school district superintendent says he plans to resign by the end of the academic year, following months of community outrage over the handling of the country's deadliest school shooting in nearly a decade. https://t.co/lmqBQejJKV

— NBC News (@NBCNews) October 11, 2022
The departing superintendent has faced a huge amount of public pressure since the tragedy at Robb Elementary School. Along with other officials, parents and community members held him responsible for allowing the shooter to remain inside a classroom for over 74 minutes before police intervened.
Earlier this month, the district placed the entire police force for working the UCISD on suspension for an unspecified time, asking the Texas Department of Public Safety to supply officers to provide campus security in the interim. Additionally, district officials fired a school police officer they had recently hired. She was working as a Texas state trooper responding to the scene the day of the shooting. The ex-trooper remains under investigation for her actions that day.
Will the resignation and other actions help bring closure and healing to this community?
Copyright 2022, IntegrityPress.org