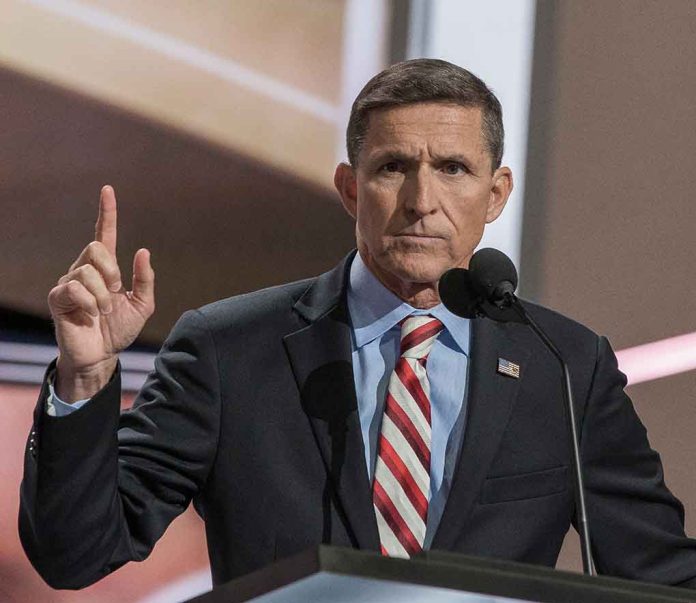 Judge Orders Michael Flynn To Testify in Trump Probe
(IntegrityPress.org) – A special grand jury in Georgia could be the biggest legal threat to former President Donald Trump. The investigation concerns criminal allegations, and while that particular brand of grand jury can't indict, it can recommend the path forward for prosecutors. A Florida judge handed investigators a huge win last week when he ordered former National Security Advisor and Trump loyalist Michael Flynn to testify before the panel.
On November 15, 12th Judicial Circuit Court Chief Judge Charles Roberts found Flynn's testimony presented no hardship and that he must appear in a Peach State courtroom. Flynn's appearance comes not only at the request of prosecutors in Georgia but also by Georgia 5th Superior Court Judge Robert McBurney, who certified the former Trump official as a "necessary and material witness." Judge Roberts denied a petition to stay his decision pending Flynn's impending appeal.
A Florida judge has ordered former national security adviser Michael Flynn to testify in the Georgia election interference probe.

Flynn must testify before the panel on Nov. 22.
https://t.co/0tUituHhc4

— Meet the Press (@MeetThePress) November 16, 2022
Fulton County District Attorney Fani Willis already dragged a large number of Trump's inner circle into the closed grand jury proceedings. Major players in Republican politics, such as Former House Speaker Newt Gingrich, former Trump White House Chief of Staff Mark Meadows, and former New York Mayor Rudy Giuliani, have all spent time in the witness chair in Fulton County. The case stems from the infamous call from Trump to Georgia's highest-ranking officials asking them to "find" enough votes to overturn the state's certified election results.
Barring any intervention from a higher court, Flynn should testify on November 22.
Copyright 2022, IntegrityPress.org