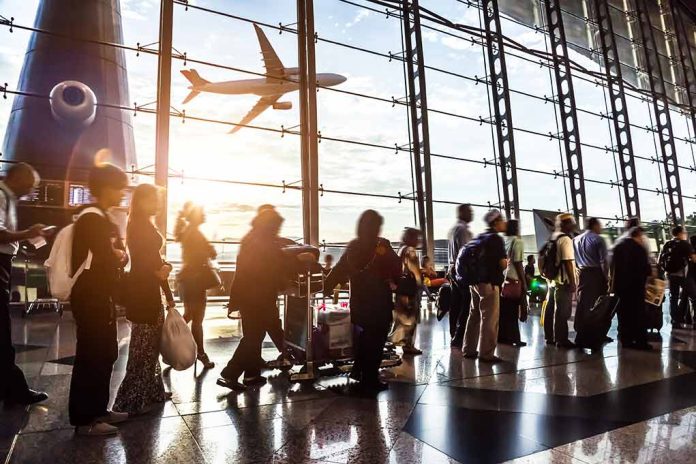 (IntegrityPress.org) – Videos released and circulating on multiple news outlets show TSA agents working together to steal passengers' belongings during security checks at Miami International Airport.
The State Attorney Office in Florida has released surveillance footage that shows security screeners looting bags and putting the passengers' items in their pockets before sending the bags through the CT scanner.
The surveillance video, dated July 29, contains approximately 20 minutes of footage, which captures the three employees, Josue Gonzalez, 20, Labarrius Williams 33, and Elizabeth Fuster, 22, in the act of stealing. In one segment, an agent is seen opening a small pocket at the front of a bag on the conveyor belt. He slyly removes a wallet and continues to monitor the bag until it passes through the CT scanner, all while slipping the wallet into his pocket.
In another part of the footage, the two agents focus their attention on a corner of one of the security trays. Eventually, one of the agents places an item into his pocket.
An arrest report reveals that the security director of Miami International Airport contacted Miami Police about ongoing thefts at one of the security checkpoints in the airport. According to a police report the pair is specifically accused of stealing over 600 dollars from a passenger while the passenger was going through clearance.
The report further alleges that they would purposely try to distract passengers so they could get access to their belongings without them noticing.
TSA responded to the airport thefts in a statement, declaring that the officers were all removed from their jobs pending the evidence and internal investigations. In July 2023, all three agents involved were indeed arrested and charged with an organized scheme to defraud in connection with the alleged thefts. However, recently it's been reported that charges against Fuster have been dropped, and she has been released.
Copyright 2023, IntegrityPress.org