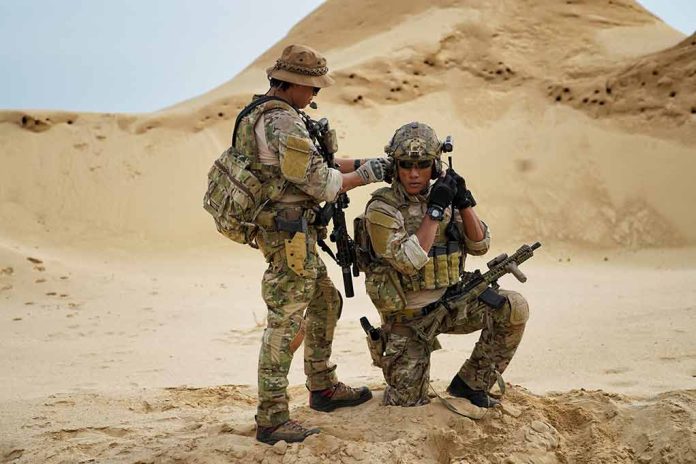 (IntegrityPress.org) – Defense Secretary Lloyd Austin has decided that the US military will beef up its presence in the middle east due to concerns about Iran's attempt to seize oil tankers in the Gulf of Oman earlier in July. The US Navy managed to stop the attacks on the flagged oil tankers TRF Moss and Richmond Voyager on July 5.
On top of the attempts on oil tankers, the Iranian navy has successfully seized commercial ships for their probable involvement with smuggling. According to the US military, Iran has been seizing tankers and commercial ships on a concerning level for 2 years. A British maritime company, Ambrey, revealed recently that they witnessed an Iranian Navy vessel seize a Tanzanian tanker in international waters, about 110km off the coast of Saudi Arabia.
Middle Eastern countries, namely the United Arab Emirates (UAE), are holding the USA accountable for Iran's actions. They blame the attempted oil tank seizure on the US not having enough military prowess in the area to deter Tehran's forces.
Due to the complaints of the UAE, the US has announced that it will be increasing its presence on a limited level in the area again. F-35s, which are advanced fighter jets, will be patrolling the region. Also, an additional 2,500 Marines are set to be stationed in the area to help deter Iranian forces from any further seizing attempts.
Because of events like the War in Ukraine, and the rising tensions with China, the US focus has not been on the middle east. Ever since the disastrous pullout of US troops from Afghanistan in 2021, the focus has been on staging troops in Europe and East Asia.
In Syria, Iranian-backed fighters suffered losses at the hands of US airstrikes, increasing tensions between Tehran and Washington DC. Europe's relationship with Iran is even more strained Iran because Russia is buying "murder drones" from the country to use against Ukrainian armor and troops.
Iran and the US are yet to have discussions over these recurring issues.
Copyright 2023, IntegrityPress.org