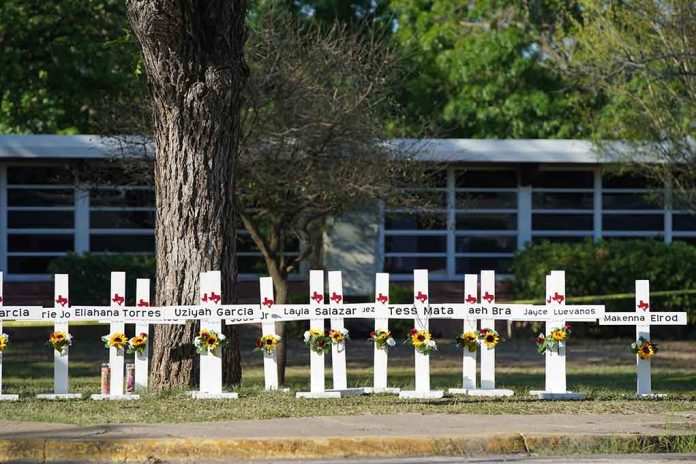 Survivors File $27 Billion Class-action Lawsuit in Uvalde
(IntegrityPress.org) – Few mass shootings carry the stigma of the tragedy at Robb Elementary in Uvalde, Texas. Not only was an elementary school the target, rehashing memories of the horrors of Newtown, Connecticut, but the actions — or rather inactions — of responding law enforcement sent a chill down the backbone of a country that truly relies on its cops for public safety. As the story of Uvalde unfolded, however, it became obvious that the response was woefully inadequate.
Uvalde survivors have filed a $27 billion class-action lawsuit against the city, school district and police as redress for the "forever-lasting trauma" caused by failures of law enforcement that day.https://t.co/OvJuTTDtNF

— NPR (@NPR) December 2, 2022
On November 29, a group of parents, teachers, students, and school staff who were there for the tragic shooting filed a class action lawsuit in a federal court in Austin. The suit seeks $27 billion in damages for the "indelible and everlasting trauma" caused by officials who failed to take down a young, inexperienced gunman with no firearms training before he murdered 19 children and 2 teachers.
The case lists the Uvalde Police Department, Texas Department of Public Safety, Uvalde Consolidated Independent School District's police, and individuals from each agency as defendants.
Uvalde also faces its own internal struggles. The city filed suit on December 1 against Uvalde County District Attorney Christina Mitchell for withholding the investigation materials and records it deems necessary for its own internal affairs dive into the matter.
Perhaps through the intervention of the courts, Uvalde victims can see some justice, although nothing will bring their loved ones back.
Copyright 2022, IntegrityPress.org